Play Blackpool ! 2016

A few short days ago myself and Dan were back in Blackpool for our (now seemingly) yearly pilgrimage to Play Blackpool, the slightly more northern, smaller brother of The Play Expo. Hosted by Replay Events at Norbreck Castle, it takes place over a few days early in May and seemingly seems to be a time when the weather is never at its best.
Arriving just after taking the tram, a very easy decision to make, the main hall and layout of Play Blackpool had not changed one iota. The Arcade section was immediately in front of us, so naturally the search to see if Thunder Cross 2 was there began. Unfortunately it was another event that the fabled game had not turned up to.
The sadness was short-lived as we made our way to the merchandising area, which was once again through a narrow area filled with CRT TV's it was very nostalgic to hear the whine of the TV's over the other background noise of the event itself. The merchandise area was as full as ever with a range of things for sale, including awesome T-Shirts from Battle Tiger – I will buy one at some point, honestly!
Several stalls were selling retro games and I am pleased to say that I managed to find one from my youth. It's not actually a good game, but Rock and Roll Racing 2 is now in my hands. Despite having a number of days to play it, I have been unsuccessful in getting it to load in my PS3. It may be a game that I need to emulate in order to relive it. There were a few other stalls with items that I wanted, however the main one was a collectors edition of Dissidia Final Fantasy, which had been sold when I went back in the afternoon to buy it.
After looking at the amazing bead sprites and giant bead art that some stalls were selling, myself and Dan made our way into the gaming area once again to play some games!
I have to open this part and say that Dan challenged me to a few rounds in Dead or Alive 2, and I was soundly beaten across several rounds. It is a game I have little knowledge of but I accept my loss. The loss was short-lived as we made our way over to the PlayStation 3 that was running a Tekken game (not sure of the exact release), where I was able to beat Dan over a few rounds to make our little sparring session even result overall.
Of course we were only amateurs compared to the people playing in the Manchester Battle Arena tournaments held over the weekend.
After perusing the arcade section once more, we settled on a few light gun games, although I was upset that the Point Blank 2P light gun was broken. Lethal Enforcers however was very fun to play, although I wonder if the creators ever counted how many people could fit into a regular sized car, or if they chose a number at random.
There were a number of Indie games on display, including the interesting looking Dead Pixels II whose stand was lit up like a cheesy 80's slasher movie. Including neon lit VHS cases and a VHS player.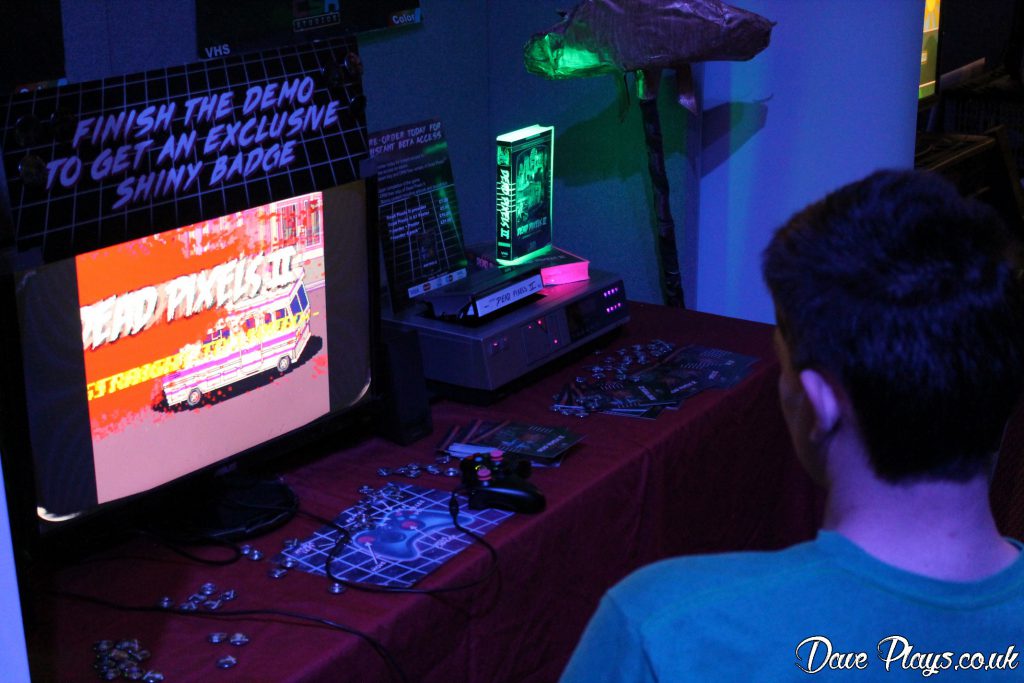 It was nice to see such effort going into the marketing and stand design for what appears to be a very nice game.
A short while was spent on Doom, no not the new Doom, the old one. As there was a small LAN game underway in the hallway of Norbreck Castle, I was reasonably successful until I died….
Rounding out the day was the CosPlay masquerade which had a number of awesome CosPlayers showcasing custom-made outfits. My favourite of them all was this Scarecrow.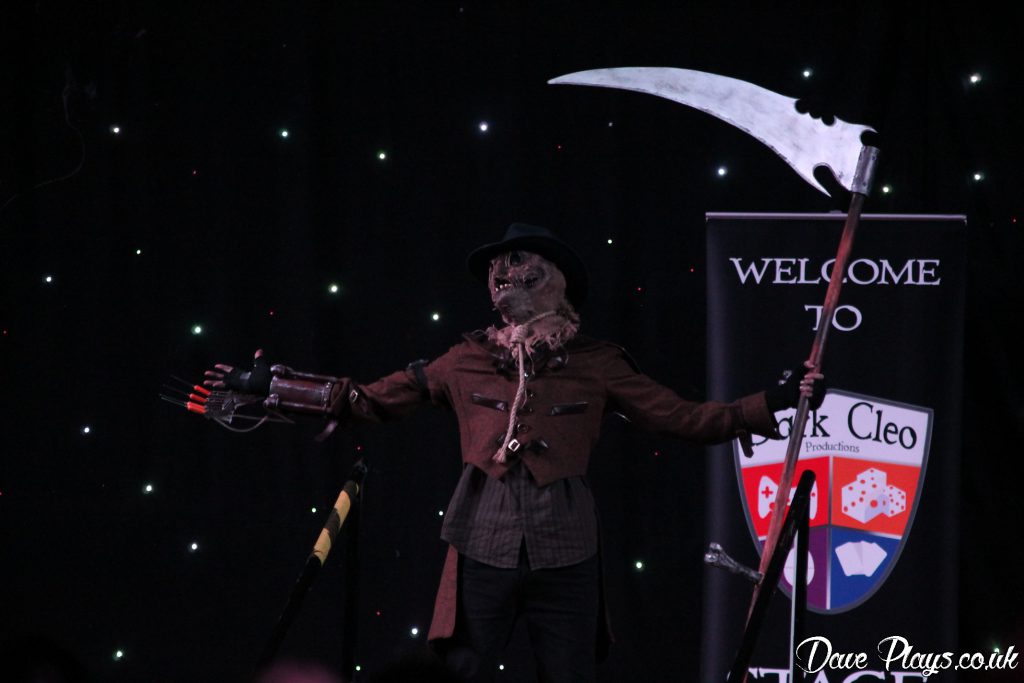 Even though the Blackpool event is the "smaller" of the Replay events, it has always been an enjoyable trip for me and Dan. It always seems to keep the community feel of the earlier Play Expo's and because of that, is very awesome way to spend a day, or the weekend.
I hope to be back next year !