GIGABYTE G1 GTX970 and GTX980 Unveiled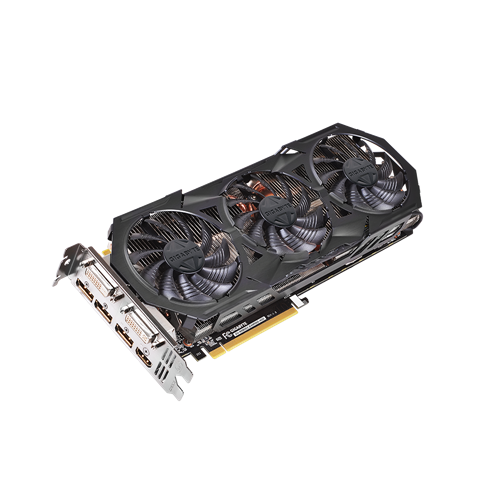 Taipei, Taiwan, 19th September 2014 – GIGABYTE, the world's leading premium gaming hardware manufacturer, today announced the release of GV-N980G1 GAMING-4GD and GV-N970G1 GAMING-4GD, two new graphics cards from the next generation G1 Gaming Series. Both cards are respectively powered by the highly-anticipated GeForce® GTX 980 and GTX 970 Maxwell GPUs and combined with GIGABYTE technologies and innovations to outperform the reference.
GIGABYTE G1 Gaming graphics cards are crafted for perfection in pursuit of the ultimate graphics experience for gaming enthusiasts. Through GPU Gauntlet Sorting, the graphics cards are forged with only the top-notch GPU cores to deliver the maximum processing power for going Super Overclock. Further armed with the acclaimed WINDFORCE cooling system and innovative Flex Display technology(patent-pending), the G1 Gaming graphics cards ensure incredibly fast, cool and quiet performance, whilst providing gamers with greater flexibility in output connectivity options for multi-display gaming.
The G1 Gaming graphics cards provide an ultimate solution to what gamers truly care about in terms of processing power, cooling, and immersive multi-display for a complete upgrade and enhanced overall gaming experience.
WINDFORCE 3X cooling system
Both G1 Gaming graphics cards are equipped with WINDFORCE 3X cooling system. With the unique blade fan design, the air flow is split through and guided smoothly through the fan by special 3D stripe curve design. It effectively enhances air flow by 23% while reducing air turbulence. The cooling capacity of the GV-N980G1 GAMING-4GD is reinforced with WINDFORCE 600W cooling system by only using 2 slot heights. Featuring GIGABYTE patented Triangle Cool technology and special fin architecture, the WINDFORCE 600W cooling system delivers superior cooling performance than traditional fin module up to 35% for an unprecedented cool and quiet gaming experience.
Flex Display technology (patent-pending)
G1 Gaming graphics cards support multi-display and take it further by taking advantage of the Flex Display technology with auto output detection and dual DVI support in addition to the 3 DisplayPort and 1 HDMI. This patent-pending technology provides gamers with much more flexible output connectivity options compared to those of the reference. For gamers looking for a multi-display gaming rig using 2 DVI monitors, or enthusiasts going all in for a full 4K surround view using multiple DisplayPort monitors, the G1 Gaming graphics cards can flexibly fulfill different gaming needs
GPU Gauntlet™ Sorting                                          
With GPU Gauntlet™ Sorting, GIGABYTE G1 Gaming Series graphics cards provide the best power efficiency and lowest power consumption. Only the strongest processors survived the stringent sorting can be qualified for G1 Gaming graphics cards for fully meeting both gaming enthusiasts' and extreme overclockers' expectations with the super overclocking capability.
Abundant features make G1 a complete package
The GIGABYTE OC GURU II provides gamers with an unlimited overclocking capability through an intuitive interface. Users can easily perform precise control on the graphics card include core clock adjustment, fan speed control and setup the power or temperature target.
The G1 Gaming graphics cards also feature DualBIOS for a reliable backup. Ultra Durable components provide improved stability and power efficiency, ensuring that all overclocking adventure is an easy, joyful ride.
For more details of GIGABYTE GV-N980G1 GAMING-4GD and GV-N970G1 GAMING-4GD, please visit the GIGABYTE VGA website at:
http://www.gigabyte.com/products/main.aspx?s=43
Facebook: https://www.facebook.com/GIGABYTE.VGA