Edison M PSU from Fractal Design
<press release>
Fractal Design is proud to announce the NEW modular PSU family, Edison M, available in a variety of wattage levels.
The Fractal Design Edison M series of power supplies feature excellent electrical performance, including 80PLUS® Gold efficiency certification.
Designed for maximum reliability, the Edison M units feature Japanese electrolytic capacitors with a full protection suite, including over-temperature protection. The modular cable system assists with a clean installation and the extra-long ATX12V cable accommodates cases with bottom mounted PSU positions.
Fractal Design Edison M units are equipped with a large, temperature-controlled FDB-bearing 120mm fan contributing to a maximum lifespan while keeping noise levels at a minimum.
The Edison M is a highly reliable choice, for both gaming computers and powerful workstations.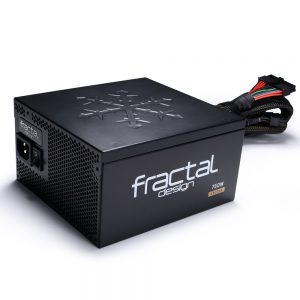 Key Features
Modular construction to assist with a clean build with only the most essential cables permanently attached
80PLUS® Gold efficiency with a 5 year warranty on the PSU
ATX 2.4 compliant, including full support for the new C6 / C7 power states introduced with the 4th generation Intel Core CPUs
DC-DC design for improved system stability and maximum 12V output
Tight voltage regulation: +/- 2% for +12V and +/- 3% for minor rails
Japanese electrolytic capacitors, rated at 105°C; Japanese and Taiwanese solid polymer capacitors
Extra-long ATX 12V cable
Silent, temperature-controlled 120mm fan with quiet, long-life FDB bearings
Full protection suite: Over Power Protection, Over Voltage Protection, Short Circuit Protection, Under Voltage Protection, Over Current Protection and Over Temperature Protection
Sleek look to add to the overall design of your build
Available in Black
Available in different wattages: 450W, 550W, 650W and 750W
MSRP:
450W          550W          650W          750W    
USD        84.99             94.99           104.99            119.99
GBP         62.99            69.99            77.99             89.99
EUR        79.99             89.99            99.99            109.99
SEK         759                849               949                1079
---
Model
EDISON M 450W
EDISON M 550W
EDISON M 650W
EDISON M 750W
Article Number
FD-PSU-EDIB-450W
FD-PSU-EDIB-550W
FD-PSU-EDIB-650W
FD-PSU-EDIB-750W
</press release>