ARCTIC Summair Light – brings a gentle breeze to your desk
ARCTIC in the past have had a number of desk fans, releasing useable USB desk fans that actually work. I reviewed the Breeze fan a short while ago and was impressed with how it performed. Beyond occasionally shredding my fingers on the open blades.
Today, ARCTIC have announced a new desk fan called the Summair Light which solves this issue whilst also being more stylish in its design.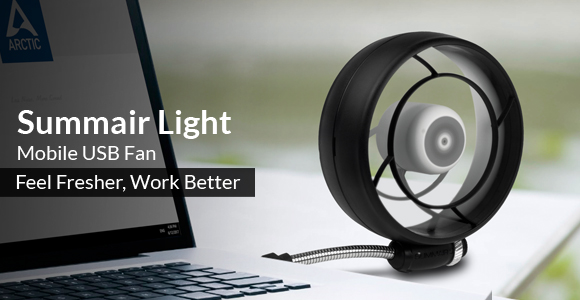 The 92mm fan on the Summair Light can be adjusted from a gentle breeze at 900rpm to a gusty 2100rpm. Allowing you to adjust it on noise and airflow required.
Whilst it is only on a short cable it does make it perfect for portable devices or even plugging into a power bank. This cable is also flexible which allows you to aim it where you need it to be.
Main Features
• Ultra-quiet mobile USB fan
• Fan protection grill for safe use
• 92 mm fan
• Flexible neck for individual positioning
• Ideal for laptops, or powerbanks
You can purchase the Summair Light directly at the ARCTIC webshop for only £10.50 or from Amazon
*note* – Amazon links are affiliated. The long term reliability of any items reviewed cannot be assessed.