Insomnia 55 was a blast!
Insomnia 55 happened over the weekend and I was lucky enough to attend for two of the days it was on for. Insomnia 55 is touted as the UK's biggest gaming festival and this year it held true to that title by expanding even more over last year.
The event hall was bigger, the Big Blue Tent of last year was back with 3 smaller siblings. This included a segregated minecraft area, retro tent and an external lan tent. This meant that the main event hall could contain far more amazing things.
This year of course at the brilliant Pub Quiz it was announced that even with all of this space, the event had grown too much and would be moving to the Birmingham NEC from the Winter iSeries onwards.
This was the first time that iSeries have held a speed running event as well, with several UK speed runners congregating to showcase their skills in the art of breaking games. Members from SpeedRun.com were the eventual organisers and did an excellent job organising and keeping things running smoothly.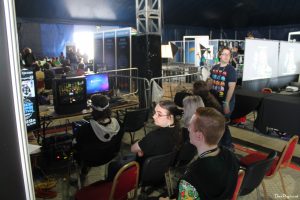 The speed running area was behind the main stage and as such suffered from major audio problems due to the overpowering audio and screams of children. This was hard to overcome for the techs but I hope that any future iSeries speedrun events get moved somewhere a tad more sound proof. The last run of the weekend (Zoton2's run of The Ballad of Gay Tony) was also cut short on stream due to the internet getting shut off before the run was completed.