Play Expo 2014 Thoughts
If you click the image above you will be taken to the gallery of images I took.
So Play Expo 2014 was last weekend and I attended as a member of the press (sweet right). This year I went down with good friend Dan Le Vannais from CCL and a few other good friends. This is a short write up of the Saturday which was the day I managed to attend, as well as being the first Saturday we have managed to attend.
Once again the event was bigger this time using up far more space in the Event City centre than last year, each area was granted a bit more space with the inclusion of a new sub-event called Screen.Play which centered around Films and TV Shows.
Once again the retro section was well catered for with a massive amount of games on display, including a far more concise classic PC section including Amstrad CPC's and a barrage of Amiga based systems equipped with tape drives and floppy disks all up and running for you pleasure.
In addition to the standard retro games area, which was loaded with Playstation consoles and Nintendo 64's as well as these relics of gaming history, areas were themed to tie in with movie based games including Terminator, Tomb Raider, Aliens and Indiana Jones. With some of the movie based areas having props populating the area including the motorbike and sidecar from Indiana Jones and a jacket seemingly from Terminator 2 (it had it stamped into the back of the jacket – Seems Legit)
Traders were back in force, in far larger numbers than previous years with far more diversity as well from just classic games, including various things you will have seen at Comic Cons and at iSeries including various stalls selling trading cards, anime and mange merch including a company selling swords from games and movies.
ABeadsCStart were also there selling epic depictions of popular gaming sprites all of which were reasonably priced and would look awesome framed and whilst I would have totally purchased a large sprite having nowhere to actually place it put a damper on that idea.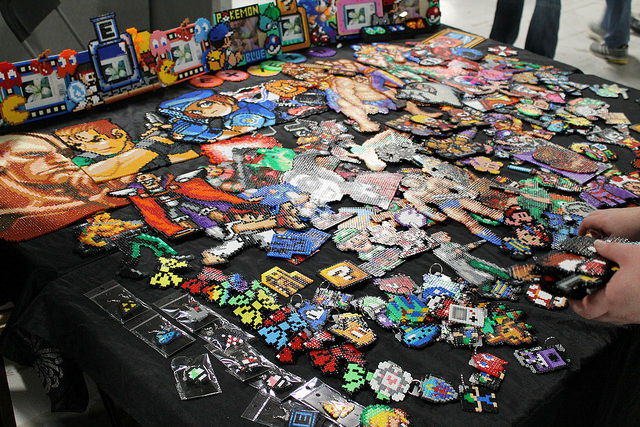 The event also included the return of the Pinball machine section which featured an interesting look at the internals of a machine, which was surprisingly interesting to say the least. Being the ex computer sales guy from CCL my eyes instantly peered to what appeared to be a Arctic Red Power supply powering the whole unit.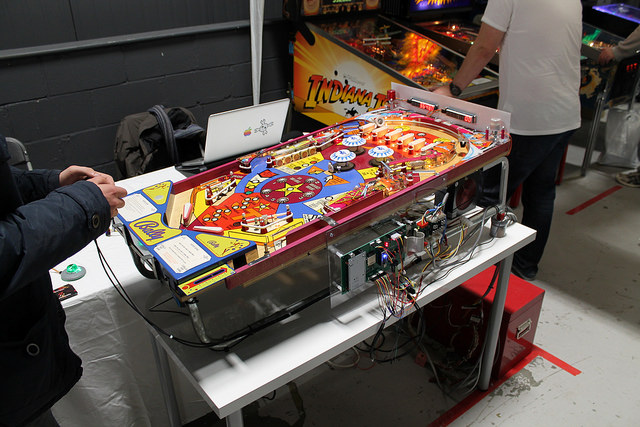 In the arcade section hopes of finishing Thunder Cross 2 were scuppered when the cabinet was not there, but Gauntlet was back with a working 4th player stick which led to some very frantic action and good reason to why the stick was broken last year. Strewn around there were also some great cabinets including a Fix It Felix Junior cabinet which looked amazing, as well as arcade staple Point Blank 2.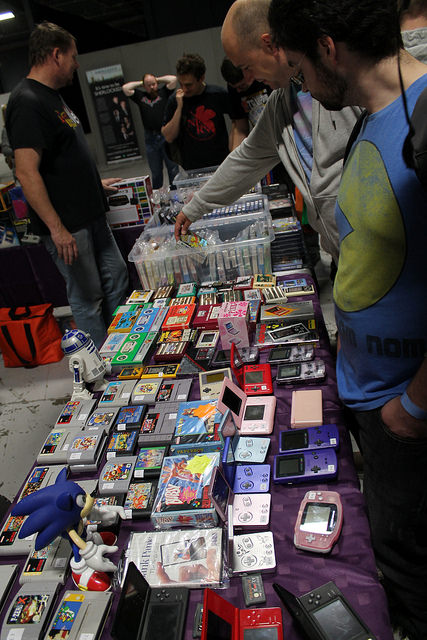 It was nice to see a lot of smaller stalls at the show all of which were mainly selling games, which had some amazing deals I managed to finally pick up a copy of Ehrgeiz this year for a very reasonable amount. Funstock were in attendance showing off the Neo Geo X and the JXD gaming tablet unfortunately there was not an appearance from the ill-fated Retron 5 which seems to get less and less likely to ever appear on these shores.
This year despite Konami appearing and Sony putting out over 100 Consoles there wasn't a great focus on new releases. Last year Ubisoft and Nintendo were both at the event showcasing new games whilst Oculus and other companies were down showing off their wares as well. This year was a bit lacking in that regard despite the 18+ area showing off PT and a couple of other games, lack of audio in this area was a bit annoying and took away a bit from the overall feel of the area.
All in all It was a good event but it seemed to lack a bit of the feel of past Play Expos whilst there was a lot on, it didn't really feel like there was. Being the geeky gamer I was, I was overawed at the amount of geeky swag available to buy. Overall event seemed a bit disjointed and less focused than in the past but this is to be expected for an event that is still young and of course I will be going to next year unless something happens that prevents me – like a line that took almost an hour to get to the front of >.<