GAMDIAS Eros 7.1 Headset – Review
In normal circumstances as a reviewer you are given items to review, this could be from the distributor of the product or the manufacturer themselves. The product I am reviewing today is one that I had to actually go out and purchase myself, as I could not source a review sample, this is the GAMDIAS Eros 7.1 USB Headset.
The headset is not the only product GAMDIAS have; currently they have a mechanical gaming keyboard and several gaming mice in their range of products.
About GAMDIAS
The first three letters GAM stands for Gaming Art in Motion, and DIAS is the Latin word for god. Therefore, GAMDIAS all together is, the god of gaming. GAMDIAS is a gaming brand based on ancient Greek Mythology, coupled with a visually pleasing work of beauty, obsessed with pursuing the epitome of gaming. Themed around ancient Greek Mythology, all GAMDIAS products are named after Greek gods.
GAMDIAS emphasizes on the fundamentals, complemented with creativity and service.
GAMDIAS Technology was founded 2012, with a team of over 100 led by RK HAN. Successfully creating the gaming brand known as GAMDIAS. Our team emphasizes the fundamental need of gamers, integrated with creativity and artistic beauty. Not only do we aim to set the bar for quality and practically, but also to go above and beyond in our designs. Further supplementing our motto: Gaming Art in Motion, we will continue to invest heavily on designs, transcending GAMDIAS products to an artistic pantheon.

Specifications
| | |
| --- | --- |
| Cable Length | 3.0M |
| Dimension (LxWxH) | 232 x 100 x 216 mm |
| Frequency Range | 20Hz ~ 20KH |
| Plug Type | USB Gold Plated |
| Sensitivity | 100 dB + / – 3 dB at 1 kHz |
| Impedance | 32 Ohm + / ??- 15% |
| Driver Diameter | 40mm |
| Driver Magnets | NdFeB |
| Driver membrane | PET+PEN |
| Microphone size | 6.0 * 5.0mm |
| Microphone Sensitivity | -54 + / – 3 dB |
| Application UI | GAMDIAS EOS |
The Packaging and the Product
The box the Eros comes in is very sturdy and it feels weird to complement it but the box has the GAMDIAS Logo (ZEUS in a triangle) embossed into the box which gives the box a very nice feel.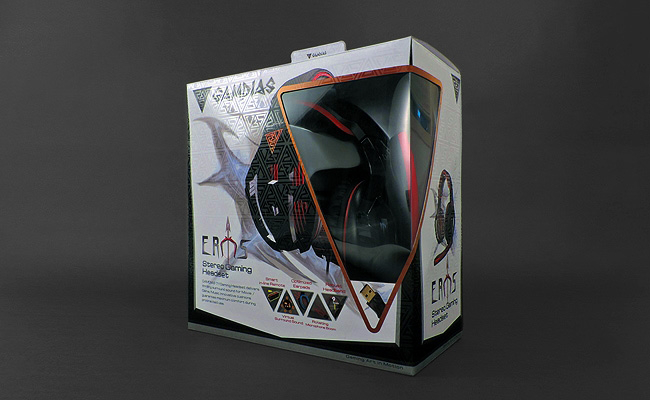 In the box is the headset itself, which is secured to a grey plastic mould, included with the headphones is a quick installation guide, and two GAMDIAS stickers; no software disc is provided which is now a common occurrence, with the most up to date software available from GAMDIAS' website directly. The software will be a required download for some, as with it the Eros is able to provide virtual 7.1 sound.
The GAMDIAS Eros is fitted with a red and black braided cable, which is 3 metres in length; this then terminates with a gold plated USB connector. The cable also has an inline remote control, this has several red LEDs and allows you to mute the microphone and the audio individually, as well as give you control over the volume itself; from there the cable terminates at the left ear-cup of the headset.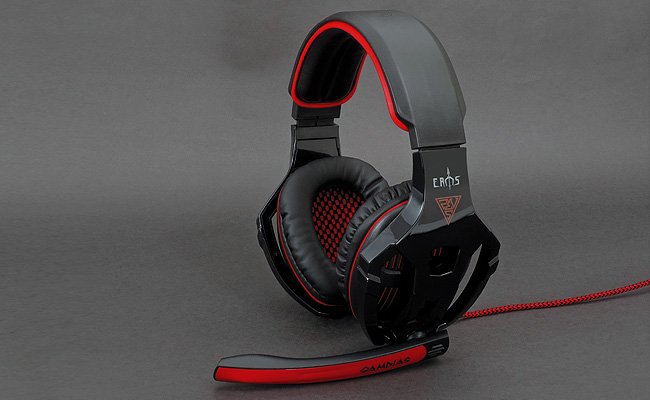 The red and black colour scheme of the cable and in-line control is repeated on the headset itself, with the headband and ear cups having a primarily black finish with streaks of red highlighting areas such as the headband and the boom mic, the ear-cups complete this styling nicely, having a red and black chequerboard to the cloth inside.
The ear-cups use a leather-like material for the cushions, these are quite large which allows for good passive noise isolation, the cushion on the headband also features this material and both make the headset very comfortable.
GAMDIAS have seen fit to use what could be some of the glossiest plastic I have seen on the ear-cups and in-line control, in my use of the headset they gathered fingerprints faster than I thought was possible; thankfully it is only these two parts that feature this plastic the headband is a nice matte finish.

Testing
I have used this headset for a few weeks now, in varying circumstances including gaming, listening to music and watching movies. In these tests, the headset performed quite well with all in game sounds being easily heard, the headset does have a fairly bassy sound overall, which improves the sound of explosions and gun shots, as well as any music that is bass heavy.
One thing I took note of was that when first replaced my old headset, is that the GAMDIAS Eros headset can be exceptionally loud, after using it for a few days I actually had to go into the software in order to lower the equaliser settings to give it a more usable volume range; the headset also leaks noise, despite the very good seal of the ear-cups, when turned up to a reasonable level, what you hear is also able to be heard around you although if used in the comfort of your own home this is likely not to be an issue.
The microphone on the left ear cup is permanently attached, and thankfully its movement is quite stiff so once moved into position it didn't move an inch during the gaming sessions. In gaming the microphone was exceptionally clear with every tonal aspect of my beautiful northern accent being transmitted with nothing left out.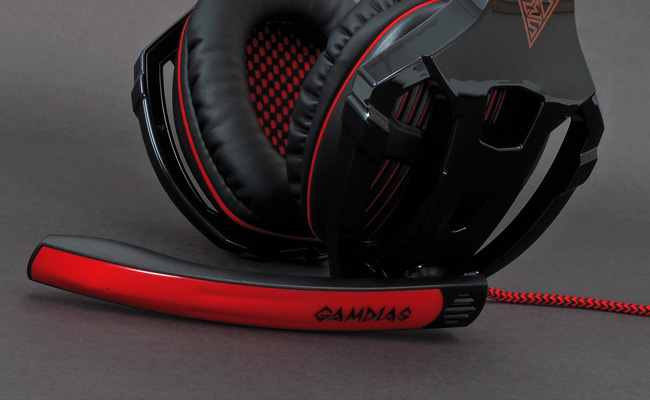 The 7.1 aspect of the headset is not true 7.1 as the headset only has 2 speakers. The Eros uses a software driver which allows for virtual 7.1 sound to be produced and in my tests this worked as well as could be possible. Personally I am not a fan of virtual 7.1 sound (It can never be as good as true 7.1) but GAMDIAS have implemented it well.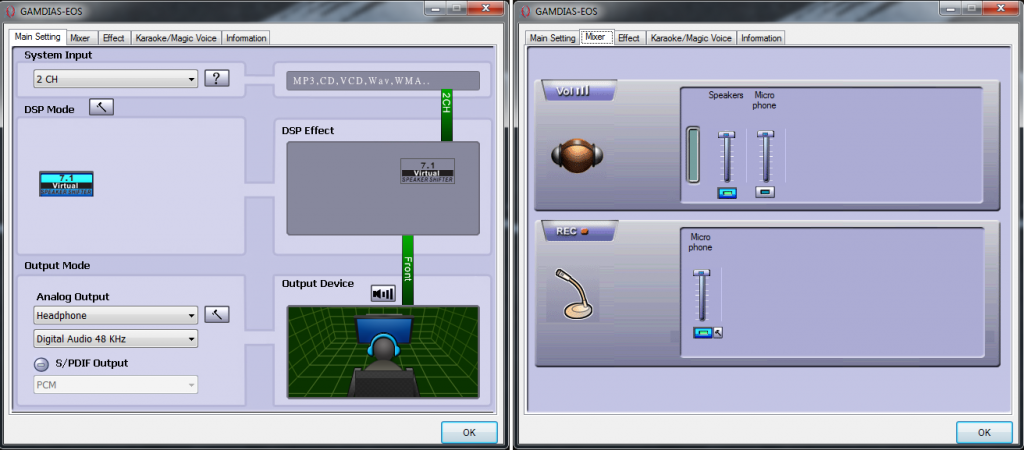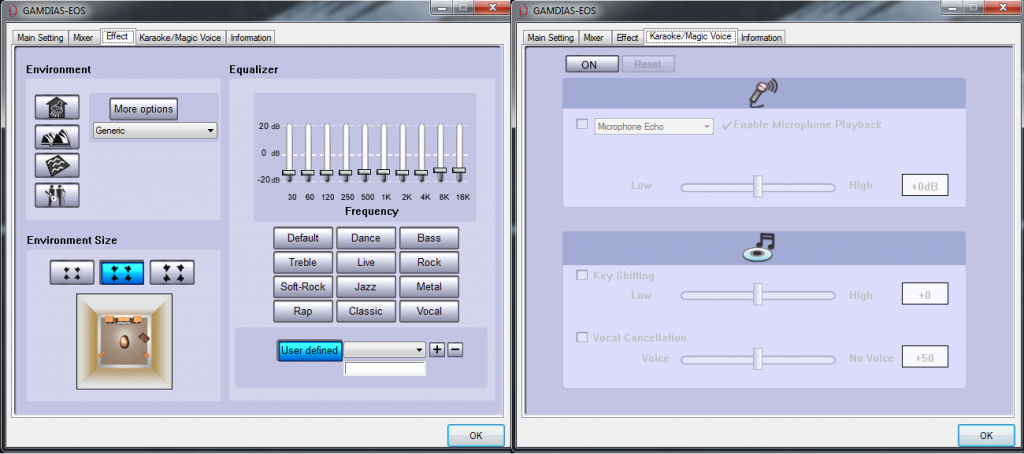 Final Thoughts
The styling choices are not likely to be to everyone's tastes, but GAMDIAS have a very good product with the Eros. It provides very good audio quality for the money and despite the glossy plastic, the build of the headset is high with a robust feeling, the added comfort of the padded headband also helps to make it exceptionally easy to wear for extended periods of time.
The Eros comes with a 2 year manufacturers guarantee (with registration), which is not uncommon for this type of product but it certainly helps to show that GAMDIAS are standing behind it.
Initially I purchased this headset to see what all the fuss was about, GAMDIAS' gaming keyboard had been getting good reviews but little had been seen about the headsets. I am glad I did as I have also been looking for a new headset to replace my own aging set, it seems that I have now done so.