Arctic Cooling Freezer i30 – Review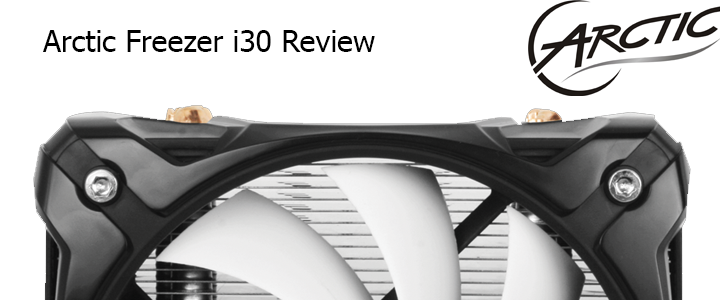 Arctic Cooling will be a name that many of you are familiar with. Having been set up way back in 2001, they are one of the first companies to see the importance of having both a quiet and cool solution for cooling hot hardware such as CPU's and GPU's.
Today I am going to be looking at the Arctic Cooling Freezer i30 CO. One of Arctic Cooling's top tier cooling solutions, with a cooling capacity of up to 320W there is little that this cooler shouldn't be able to handle. The Freezer i30 CO is an updated version of the venerable i30.
As the name suggests the i30 CO is designed just for Intel Socket processors, Arctic have a different SKU for AMD sockets called the A30, which features a different set of mounting brackets, the actual coolers are the same otherwise.
About Arctic
ARCTIC is a global leader for computer cooling solutions. Our solutions are well recognized for offering extremely quiet and highly efficient cooling performance at affordable prices. In the rapidly changing computer and electronics industries, we keep a cool head while concentrating on intelligent and practical solutions. Due to our dedication to quality – with our products you know what you get.
Specifications and Features
Compatibility
Intel Socket 2011,1150,1155,1156
Max Cooling Performance
320Watts
Heatsink
Direct Touch Heat pipe 4x 8mm48 Aluminium Fins (0.5mm Thick)
Fan
Diameter         : 120mmFan Speed       : 400-1350 (PWM Controlled)Airflow            : 74 CFMNoise Level    : 0.3 Sone @1350 RPMCurrent / Voltage : 0.24A /12V

Power Consumption 2.64 Watts

Size & Weight
Dimensions  : 100 (L) x 139 (W) x 161 (H) mmNet Weight  :  905g
Item Number
CACO-FI30201-GB
UPC
0872767006140
Warranty
6 Years
Unmatched cooling performance – 320 Watts
Dual ball bearing fan provides 2-5 times longer life span than sleeve bearing
Ultra quiet interchangeable 120mm PWM fan installed in a fan holder
4 double sided direct touch heatpipes for efficient heat dissipation
Transport Proof due to sturdy mounting mechanism with metal clips and back plate
Rubber vibration absorbers minimise noise level
MX-4 thermal compound included (syringe 0.8g)
Packaging
Arctic provide the i30 CO in a very smart box, one that helps to make sure that the cooler should not get damaged on its way to you.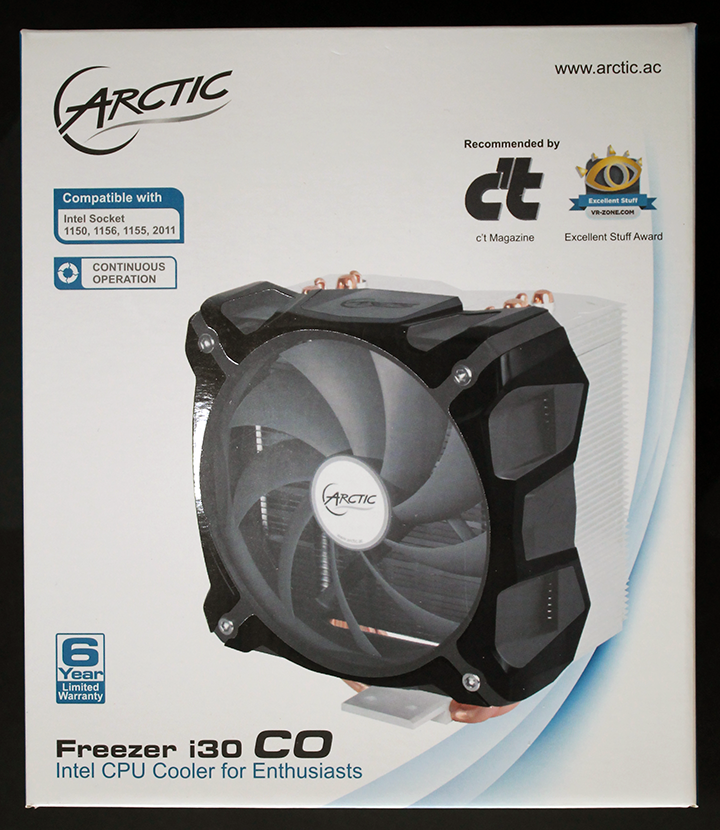 The front of the box features an image of the cooler itself, a small amount of information about the cooler as well as two awards the cooler has already won.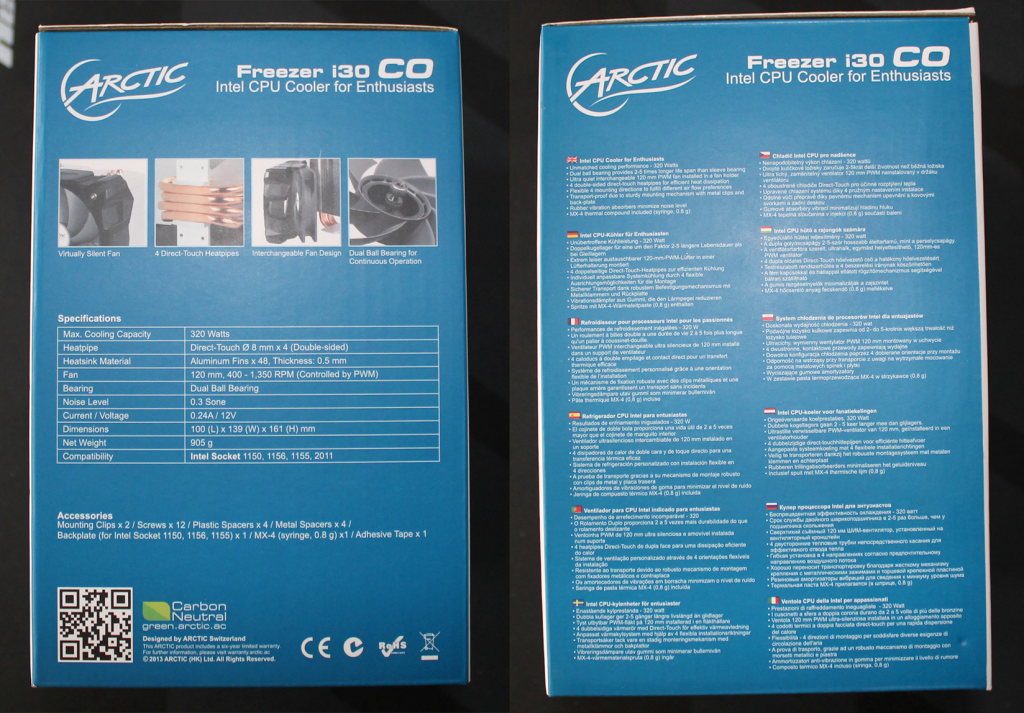 The box sides provide a bit more information about the cooler including the specifications and images of the coolers features, such as the interchangeable fan design and the direct touch heatpipes.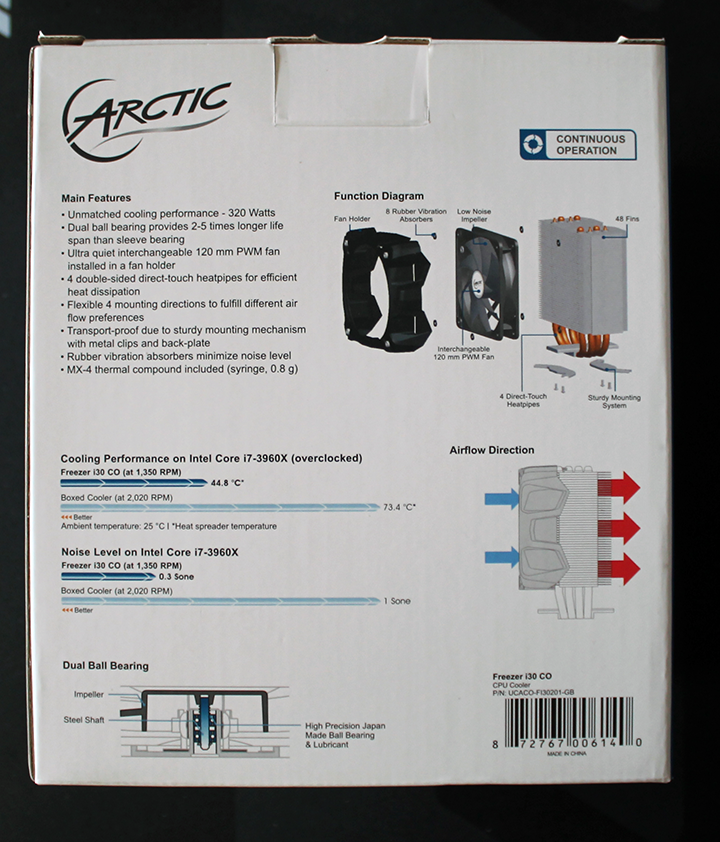 On the back, it again lists the main features of the i30 CO cooler, and includes a breakdown image of the cooler itself and its fittings.
With the outside of the box done, let's take a look at the cooler itself!