Ducky Soft Leather Wrist Rest Review
Ducky Leather Wrist Rest Review
Quack Quack with a bit of Moo Moo ?
Ducky are a premier brand in the world of mechanical keyboards, you may have already read my review of the Ducky Shine 3 mechanical keyboard over here. Today I am looking at one of the many accessories that Ducky now to complement their gaming keyboards. This item? The Ducky Leather Wrist Rest.
About Ducky
Ducky Channel International Co. was established in 1998, the initial goal of operation strategies targeted at the agent and distributor of computer peripherals. What we were agents for are now most of the world's leading manufacturers of computer peripheral products, such as Japan EIZO high-quality screen. Years of hard work has contributed to Ducky's foundation of its own brand in 2008 and helped it become one of Taiwan's top manufacturers. It has committed itself to delivering high-standard professional mechanical keyboards, and insisted to offer items with the best quality. Moreover, it keeps on developing new products from the old ones. So far, we have promoted our products internationally, and have partners in many countries.
Features and Specifications
not much to say here…
| | |
| --- | --- |
| Size | 440x95x20mm |
| Weight | 330g |
The Ducky Leather wrist rest as its name suggests, is made out of leather, this material is used as the face material on the Ducky wrist rest and to help keep it in place the reverse has a rubber honeycomb finish. Internally the wrist rest has a layer of foam to help cushion your wrists when in use. All of this is securely held together by some very neat stitching which creates a pleasant stepped edge around the wrist rest. Embossed into the top of the wrist rest in the bottom right is the Ducky logo.
Packaging
The box the Ducky wrist rest comes in, unlike some of their keyboards is decidedly plain, admittedly it has a nice embossed golden Ducky logo, and it unfortunately does not make the box any better looking with it being a rather ordinary brown box affair.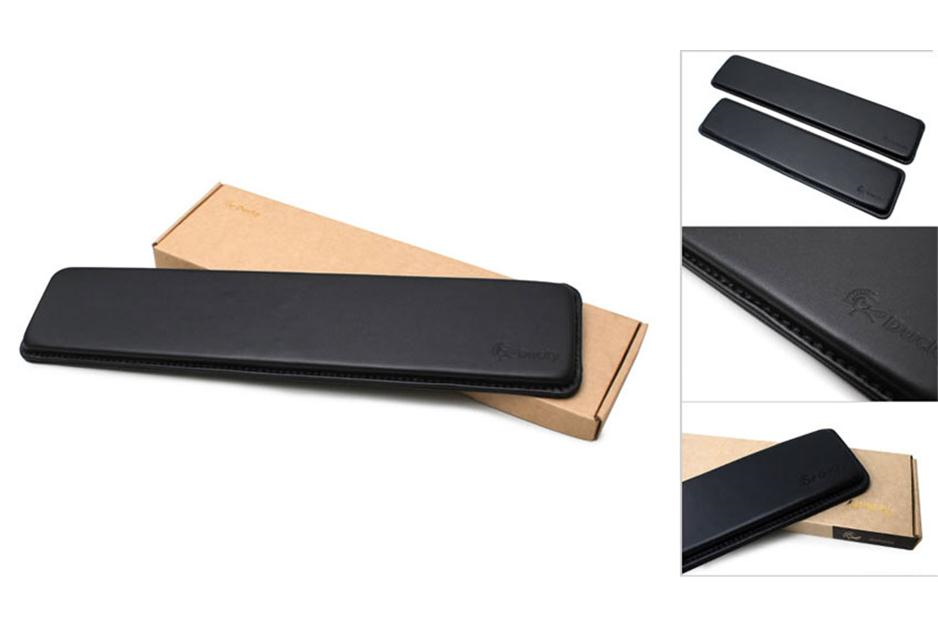 Inside the box the wrist rest is wrapped in tissue paper, with that being covered by a layer of plastic wrap.
In Practice
I have been using this particular Ducky wrist rest for a very long time, in fact almost 6-8 months has passed since I first got this wrist rest.
The wrist rest itself is designed to complement the various Ducky keyboards and the height of the wrist rest itself means it sits only slightly lower than the front of the keyboard itself although I have to question the overall "softness" of the rest as it does have a very firm feel overall.
Another thing to note is that the wrist rest isn't very weighty, during my use if it wasn't flat up against the edge of the keyboard itself would occasionally move slightly, although if you have a weighty keyboard, such as one of the Ducky's you should not run into any similar issues.
Even after using the wrist rest for as long as I have, the Ducky wrist rest itself has almost signs of wear at all and apart from dust in the stitching I would consider almost as good as when it left the box, which is a testament to the famous Ducky quality seen in its keyboards.
Conclusion
For some the price may be the most prohibitive thing about the Ducky wrist rest with it currently coming in at around 20 pounds, it means that it certainly is not a cheap purchase.  For me and my history of various cloth and gel wrist rests, this Ducky one has so far outlasted all of my previous ones.
It is by no means limited to use with Ducky keyboards either, although I would say that if you have a tall keyboard it may not be the best suited option, and I would say that the heavier your keyboard the better, just to aid in keeping it in place.
All in all though, the Ducky Leather Wrist Rest is a lovely piece of kit and easily lives up to the Ducky quality I have grown to see in their keyboards.
As I finish, I am just going to mention again that I went out and bought this wrist rest with my own money and full disclosure that I am also tangentially related to how Ducky came to be initially stocked in the UK. So take that as you will.