Razer Edition NZXT Case
Special edition PC cases are not uncommon, in the past Cooler Master has released special edition cases that have included nods to nVidia.
NZXT today have announced a special edition of the NZXT H440, featuring styling input from one of the pioneers of the gaming peripheral world Razer.
Design wise the case is the same as the normal H440 – so thankfully the main cooling features which gave the case its great performance are untouched – but it features some subtle hints (and some not so subtle) to Razers influence.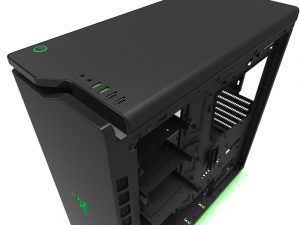 Razers influence on the case extends to:
Green LED lighting on the rear I/O
Green USB 3.0 Ports
Premium paint finish
Hexagonal mesh on the side of the door
Green LED underglow
Tinted side window
LED back lit special edition Razer logos
The full specs of the case are:
CA-H440W-RA (Matte Black Designed by Razer)
Drive Bays
External 5.25: 0
Internal 3.5″ / 2.5″: 6+2
Cooling System
Front: 2x 140/3x120mm (3 x 120mm FN V2 Fans Included)
Top: 2x 140/3x120mm
Rear: 1x 140/120mm (1 x 140mm FN V2 Fan Included)
Filters
Front (Included)
Bottom Rear(Included)
Radiator Support
Front 2 x 140 or 3 x 120mm
Top 2 x 140 or 3 x 120mm
Rear 1 x 140/120mm
Clearance
GPU Clearance With HDD Cage: 294mm
GPU Clearance Without HDD Cage: 406.2mm
CPU Cooler: 180mm
Cable Management: Lowest Point – 17.7mm; Highest Point 32.5mm
Dimensions
220mm x 510mm x 475.3mm
Material
SECC Steel, ABS Plastic
Motherboard Support
Mini-ITX, MicroATX, ATX
Expansion Slots
7
External Electronics
1 x Audio/Mic
I/O Panel LED On/Off
Product Weight
9.75 kg
USB 3.0 Ports
2
USB 2.0 Ports
2
Warranty
2 Years
To find out more, head on over to NZXT