Play Expo Talk Schedule Announced
If you are heading on down to the Play Expo next weekend, you will be glad to know that Replay Events have announced the weekend talk schedule which features industry legends and indie developers talking about there experiences.
The list of talks looks really good this year, with Just Add Water – the team behind Oddworld Strangers Wrath giving a talk about the the brand new Oddworld game New 'n' Tasty. There will also be a debate to end the discussion over what was better, the C64 or the Spectrum (I was a C64 kid). To end the event Team17 will be there to talk about all the hits they have released, I mean Worms was the staple four player game when I was a kid.
The full list of talks is below, but if you want to attend you best get your tickets bought by heading over to http://playexpo.net
Saturday:
12:30 – 1:30 Just Add Water
JAW are the team behind hits Gravity Crash and Oddworld: Strangers Wrath HD. Their new game Oddworld: New 'n' Tasty is a brand new Oddworld game based on Abe's Oddysee, with stunning next-gen 3-D visuals.
3:30 – 4:30 Charles Cecil
Charles Cecil MBE, is the visionary head of Revolution Software who created classic adventure games such as Broken Sword, Lure of the Temptress and Beneath a Steel Sky. Charles will recount his personal history of the adventure game, from the 1981 ZX81 game Inca's Curse through to 2014's episodic title Broken Sword: The Serpent's Curse.
5:00 – 6:00 C64 vs Spectrum Debate
A no-holds-barred debate to settle the great playground battle of the 1980s – Commodore or Spectrum? Hosted by Retro Gamer magazine's Paul Drury and Martyn Carroll and featuring Andy Walker (Taskset), Set Pickford (The Pickford Bros), Jeff Minter (Llamasoft) and John Gibson (Imagine Software).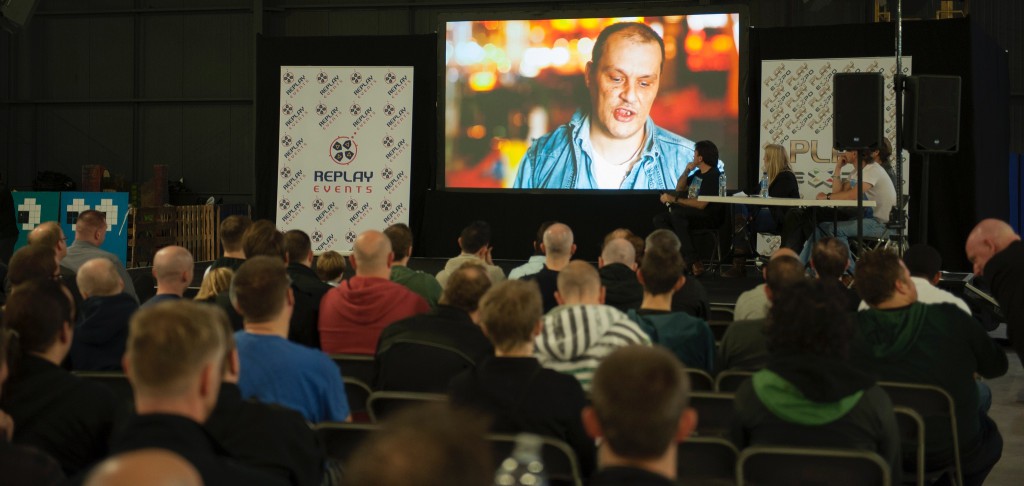 Sunday:
12:00 – 1:00 Mel Croucher
Mel is the creator of a number of award winning games including Pimania and the multimedia extravaganza Deus Ex Machina. Mel announced his appearance at Play Expo to his Facebook followers in his own inimitable style… "I've agreed to attend PlayExpo My status is "special guest", which translates as "old fart", and I'll be giving talks and signing stuff, as well as showing old and new games, blessing children and healing lepers."
3:00 – 4:00 Cinemaware
Cinemaware are the company behind a whole host of classic Amiga games that are being updated for modern systems. Following on from the release of Rocket Ranger, Kings of Chicago, and Defender of the Crown, Cinemaware are now hard at work on remastering their wonderful WWI fighter pilot hit WINGS. They will discuss the past, present and future of one of the best loved 16 bit brands.
4:30 – 5:30 Team17
Team17 founded in 1990 and are the studio behind mega hits like Worms, Alien Breed and Superfrog. The team will talk about their 24 year history and their exciting future. They may even bring a special invertebrate guest for a meet and greet!