Optoma unveil new improved uDAC5
A short while ago I reviewed the Optoma uDAC3 headphone amp. Today Optoma has released the new and improved uDAC5 (seemingly jumping over number 4?). It retains the minuscule size of the uDAC3 but has improved audio potential, greater power and performance due to its improved new innards.
Find out more over at http://www.optomaeurope.com/soundproduct/uDAC5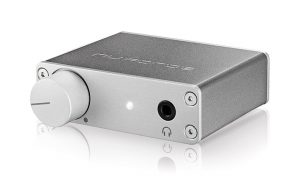 Press Release:
Optoma has expanded its line-up of mobile DACs with the NuForce uDAC5. Gamers will experience a more accurate and realistic sound track with subtle audio cues now audible. Movie lovers, Skype users, YouTube viewers and people that use online music services like Spotify or Pandora on laptops will simply have a much better sound quality if they use the uDAC5.
This super small DSD DAC and headphone amp is Hi-Res certified and will play any audio format at any resolution with more power.
It will play all high resolution formats up to DSD256. DSD (Direct Stream Digital) recordings exceed the range of frequencies available from a CD so you hear more of the detail – exactly as the artist intended. This elevates the quality of computer sourced audio files, adding weight and speed to the bass, clarity and substance to midrange tones and openness and extension to the highs.
The diminutive size of the uDAC5 makes it ideal for home, work or on the go, yet it packs a real punch with nearly twice the current reserves of its predecessor, uDAC3. The extra power means users can connect their over-ear headphones while playing conventional or high resolution music. It also makes it the ideal high resolution desktop audio controller and connection hub for budding home musicians, producers and DJs – enabling them to work anywhere with ultimate precision.
"We have been focused on developing an audio range that will enable users to enjoy accurate and realistic sound reproduction from any source," said Joe Ahmed Head of Marketing for Optoma EMEA. "Optoma's latest addition to the mobile audio line-up enables an improved music experience with any audio format and at high resolution."
The uDAC5 is housed in a metal anodized chassis for improved sound quality and offers unrivalled flexibility. It generates superior sound whether it is being used as a high resolution desktop audio controller, USB DSD DAC or a headphone amp. Additional analogue and digital outputs enables instant high resolution connection to amplifiers and active speakers.