DeathAdder Chroma Gaming Mouse Released
To go with the newly released Chroma series of peripherals such as the Black Widow Chroma and Kraken 7.1 Chroma. Razer has announced the refresh of its most popular gaming mouse the Razer DeathAdder, adding the same 16.8 million customisable colours and effects seen. The DeathAdder Chroma also features an improved 10,000 DPI optical sensor.
The sensor is also capable of tracking movement speeds up to 200 IPS (Inches Per Second) with a Max of 50G acceleration, making sure that it is not only a cosmetic upgrade to this gamers favourite. When you factor in the Razer Synapse Software, that allows you to configure multiple profiles this will no doubt be the top of many a gamers wanted list when it hits shelves.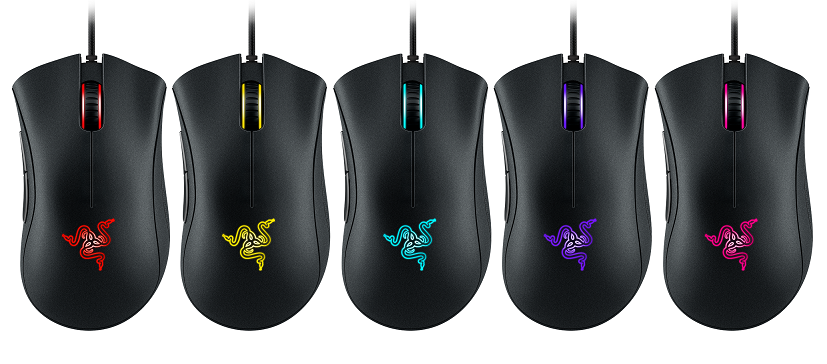 <Press Release>
The Razer DeathAdder Chroma features the renowned ergonomic design of its precursor. It is equipped with a 10,000 DPI optical sensor that is able to track lift-off distance as precise as 1 mm on most surfaces, including glass table tops. The upgraded sensor is capable of mouse movement speeds up to 200 inches per second with 50 G acceleration, ensuring exacting accuracy and organic fluidity onscreen.
Together with Razer Synapse: Stats & Heatmaps, the Razer DeathAdder Chroma provides gamers precise details such as game time, button presses, distance moved and even how much overall pressure was exerted while gaming. This incredible amount of technical tracking data coupled with the upgraded ultra accurate sensor allows gamers to tweak the Razer DeathAdder Chroma to their individual play style and further increase their accuracy more than with any other mouse on the planet.
"The Razer DeathAdder Chroma is the world's best gaming mouse favored by eSports athletes everywhere," says Min-Liang Tan, Razer co-founder and CEO. "Our Synapse software continues to add value to our hardware products, and this is the latest example of that. Validated by professional eSports athletes, the iconic ergonomic design and the ability for gamers to hone their accuracy make the Razer DeathAdder Chroma the perfect mouse for any play style."
The DeathAdder Chroma joins the BlackWidow Chroma and Kraken 7.1 Chroma that come with the option of 16.8 million customizable colors and a range of effects through Razer's cloud-based hardware configurator Razer Synapse. Chroma allows the device to sync lighting colors and patterns and comes with an open SDK that enables game developers to integrate advanced lighting effects based on in-game events such as a base being under attack and much more.
Product features
Ergonomic right-handed design with textured rubber side grips
10,000 DPI optical sensor
Chroma lighting with 16.8 million customizable color options
Razer Synapse enabled
5 Independently programmable Hyperesponse buttons
1000 Hz Ultrapolling
On-the-fly sensitivity adjustment
Always-on mode
200 inches per second / 50 G acceleration
Gold-plated USB connector
2.13 m / 7 ft., lightweight, braided fiber cable
Approximate size: 127 mm / 5 in. (Length) x 70 mm / 2.76 in. (Width) x 44 mm / 1.73 in. (Height)
Approximate weight: 105 g / 0.23 lbs.

PRICE:  USA: $69.99/EUR: €69.99
</Press Release>