Kingston microDuo 16GB Review
Once again, I would like to thank Kingston for providing me with the opportunity to review this piece of hardware. Today what I am going to be looking at is a new product, namely the Kingston DataTraveler microDuo, specifically the 16GB version.
Now you may be thinking, "hey you reviewed a USB drive not long ago", and you would be right in saying that. This drive however is something a little different, you can connect it directly to any mobile device that supports USB OTG, allowing you to boost the storage of the device in question, or quickly and easily transfer files.
Once again, the nature of the item does unfortunately mean that the review will be shorter for you hungry readers, but let's soldier on.
About Kingston
Since 1987, Kingston has been known for the highest quality memory products available. We recognise the important role memory plays in computing productivity and take the necessary steps to guarantee a reliable memory product.
Superior quality: Kingston® qualifies all components and tests all modules at all stages of production.
Guaranteed compatibility: Kingston customises its memory and guarantees 100 per cent compatibility.
Convenience: Kingston provides a complete range of memory solutions at competitive prices for thousands of systems.
Stability: Established in 1987, Kingston has grown to be the largest independent memory module manufacturer in the industry.
Reliability: Its commitment to using the highest-quality components and to 100 per cent testing makes Kingston memory the most reliable on the market.

Expertise: Kingston is involved in the DRAM process from the dicing of the wafer to encasing the integrated circuits and from assembling the module to testing the finished product.
Warranty: Kingston offers a lifetime warranty on all memory modules and Flash cards, a three-year warranty on SSDNow drives and a five-year warranty on DataTraveler USB Flash drives.
Specifications
| | |
| --- | --- |
| Available Capacities | 8GB, 16GB, 32GB |
| Interface | USB 2.0 |
| Dimensions | 27.63mm x 16.46mm x 8.56mm |
| Operating Temperature | 0°C to 60°C |
| Storage Temperature | -20°C to 85°C |
| Warranty |  5-year warranty with free technical support |
| Compatible With | Windows® 8.1, Windows 8, Windows Vista®, Windows RT, Mac OS X v.10.6.x+, Linux v.2.6+ |
Supports USB OTG (On-The-Go) functionality for Android 4.0 (or greater) devices with USB OTG support. Easily transfer and back up files, photos and videos to free up space, Great for storing large files, including movies and music libraries, while travelling.
What is USB OTG?
You may be wondering what USB OTG is and why such a feature might be useful. I can answer both quite easily, USB OTG is simply an ability for mobile devices to see and support plug in hardware normally via the Micro USB connector. Why is it useful? Well a lot of new phones and tablets come equipped with a large amount of storage, but that storage is often not expandable.
Of course there are still devices that allow you to fit a MicroSD card but it is normally hidden away, and can mean needing to remove your battery to gain access to. Making it not a simple way of copying data on/off your device.
This is where something like the DataTraveler microDuo comes in.
The Packaging and Product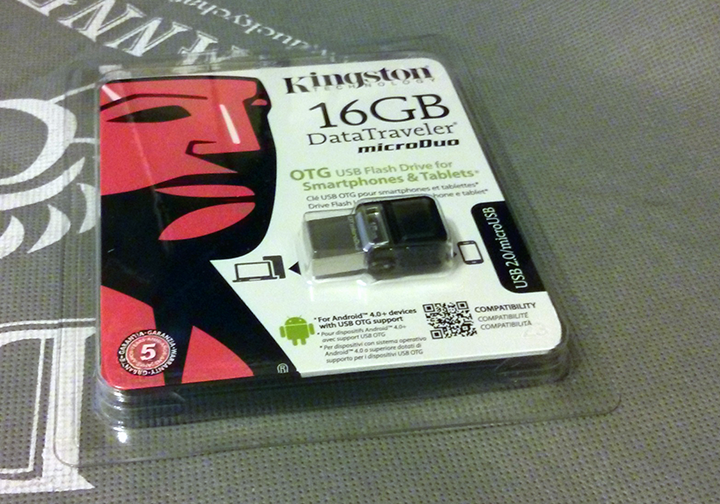 Once again, Kingston have encased the DataTraveler microDuo in heat sealed plastic, which is not the easiest sort of packaging to get into.
But once you do, it is amazing to simply see how small the drive is. It is absolutely miniscule, being not much wider than a normal USB Plug.
The device is double ended, and allows you to plug into a normal PC to be able to copy files onto the drive, whilst the opposite end under a protective cap is the smaller Micro USB which you can plug in to your compatible device.
Make sure you take note of if your device is USB OTG compatible as this can be a bit of a minefield with mobile phones, but most tablets are USB OTG compatible. But I cannot stress that it is always best to make sure that you are going to be compatible. Kingston have a non-exhaustive list over here http://www.kingston.com/en/support/technical/otg_compatibility
Using the microDuo is simple, after transferring files onto the drive from a PC, you then plug the drive into your device, and then it's simple to copy files off of the drive to your device (space allowing) all you need to do is boot up your favourite file explorer Kingston themselves recommend the Free ES File Explorer.
During my testing the drive performed flawlessly with the Kingston DataTraveler microDuo doing everything Kingston said it would.
Conclusion
Unfortunately through no fault of its own, it does have one downside; this downside is device support, there are a lot of new devices – mainly mobile phones I might add – coming out that lack USB OTG support.
If the Kingston DataTraveler microDuo weren't so keenly priced however, this would be a bigger problem than it actually is. At the moment however, this 16GB version is available for less than £7 making a nominal difference to normal USB drives.
The added potential of in the future simply plugging a device like this into your phone for more storage with such a negligible difference in price makes this an extremely handy item.
Once again, I would like to thank Kingston for providing me with this item to review.
[schema type="review" name="Kingston microDuo 16GB" author="Dave Hall" pubdate="2014-03-27″ user_review="4″ min_review="0″ max_review="5″ ]