Armed for all needs! – ARCTIC release new range of Monitor Arms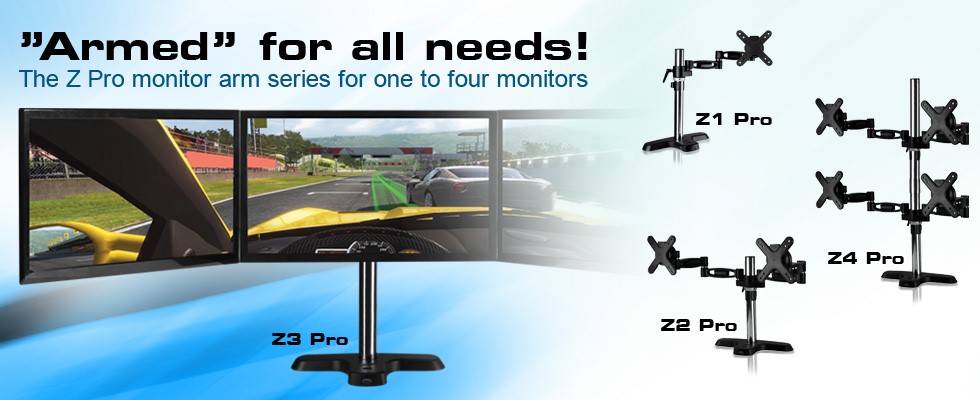 You heard that right, ARCTIC providers of great cooling hardware and accessories are releasing a new range of budget friendly multi monitor arms.
The Z Pro range is able to cover many different multi monitor set-ups from a simple one screen in the Z1 Pro all the way to four in the shape of the Z4 Pro.
MSRP Prices range from £65 for the Z1 Pro to a nominal £140 for the Z4 Pro, with all being available from Amazon direct and Arctics own site
http://www.arctic.ac/eu_en/products/computer-accessories/monitor-arm.html
They fit standard VESA monitors, and you can arrange them in a number of configurations, arm length willing.
Arctic Press Release
Z1 Pro: Health and Ergonomics
How dangerous is it to sit in front of the computer screen? According to a Microsoft study 86% of all respondents who work more than three hours a day on the PC suffer from pain. Where desk and chair are not sufficient, the Z1 Pro provides comfort and adaptability. The height adjustment and flexibility bring the monitor in the ideal position thus allowing optimal posture.
Z2 Pro: Double Efficiency
Checking the e-mails, editing a document and browsing a website simultaneously: The Z2 Pro Dual-Monitor expands the viewing area and makes different applications available parallel. The two monitors not just facilitate the work but also increase the productivity by 35 percent as the Fraunhofer Institute discovered.
Z3 Pro: Gaming in 3D
Plunging into a new gaming dimension through surround view and enjoying the game as in an aircraft cockpit. The Z3 Pro Monitor opens the door to pictorial worlds that remain closed to other gamers. So you no longer look from the outside but you are right in the middle of the game.
Z4 Pro: Perfect Overview
Whether for real-time tracking of data and information or for the monitoring of surveillance cameras – the Z4 Pro is suited for workplaces where multiple displays must be visible simultaneously.
QUICK FACTS Z Pro Series
•    Powered 4-Port USB 3.0 Hub
•    Three articulated joints allow 360 ° adjustable viewing angle
•    Ball joint design for easy finger adjustment
•    No more clutter on your desk with better cable management
•    Easy installation with detachable monitor-heads