Button Mash XI – Bradford

Around a week or so ago, an event that is held often in Bradford took place. Surprisingly it was also an event that despite it's 11th occurrence was the first I had ever attended (it won't be the last I feel). Button Mash is an event set up by gaming enthusiasts from Bradford, and for this event at least was located in the cellar bar of the Bradford Playhouse. It was a bit of an unknown quantity, I kinda guessed it would be a small event, but to be honest this is not always a bad thing.
In fact upon entering and paying more than the average, I got the chance to fire a Nerf bow in an attempt to win a prize. With my mighty left-handedness I managed to knock down one of the targets to win a beadsprite of Ken from the Street Fighter games 😀 but stylised as MegaMan.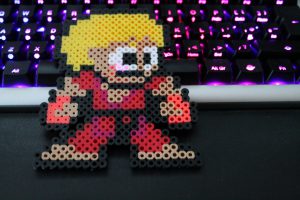 After going downstairs it was very much a case of looking like the cupboard was bare, there were a few couches (very comfy couches as well) with a few different consoles in each corner. When myself and Dan arrived we spied a Dreamcast that was not in use so we headed over and had a few rounds of Star Wars Pod Racer a game where rubberbanding is quite atrocious but was still quite fun. Now unlike the other events myself and Dan are used to stacked next to each console were a bunch of games, some of the games were classics for that console. The Dreamcast had Jet Set Radio, a game that I am terrible at, but after playing that we settled on Quake Arena which showed off the limits of having a single-stick controller, but after managing to pull a win out against the bots we moved on.
And we moved on to the WiiU in the corner to play a quick game of Mario Kart 8, which was actually my first time of playing, It was certainly fun but probably would've been better had there been more of us at the time. After one Grand Prix, Dan and I moved onto an Xbox 360 which had a large amount of Arcade games on it, specifically we settled on Streets of Rage 2, a game I own an original copy of. In Co-Op, something myself and Dan have played a lot of in other games was certainly interesting. Soon it became a bit of an annoyance as each of our characters hugged each other when they got close, we managed to get all the way to the end although we didn't manage to finish as we both used up our continues in our struggle to the last area.
After a few drinks, a few more of our friends arrived and we settled on playing a boardgame. Now I am not a fan of boardgames in general, but it was settled that we were going to play Boss Monster. Boss Monster is a game that you effectively play as the bad guy, building up a dungeon in the hopes that any adventurer who enters dies a grizzly death before getting to the end. Simple in premise and one where your secondary aim is to cause problems for the other players, by playing spell cards! which increase the HP of the heroes or allow you to steal cards from other players etc. After losing all the rounds played, I don't think it will be a game I will be going back to.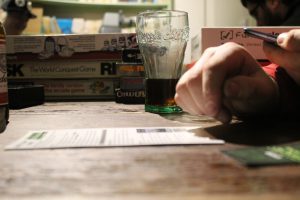 Throughout all of this, hidden upstairs in a separate room was RockBand which was being projected onto a large wall, unfortunately much like Dan, not enough alcohol was ingested for me to even think of playing it.
After this, Dan headed over to an area where there had been multiple fights of Mortal Kombat X. A game he has been recently playing and he wanted to show off his skills in, as soon as he got to the area however he was invited to play a game of Werewolf. I did not partake in this game because I wanted more alcohol. The premise of the game is for the designated werewolves to kill the rest of the players that are villagers, Dan of course was a werewolf and he was quite successful in thinning down the villagers until the last round where he was killed off.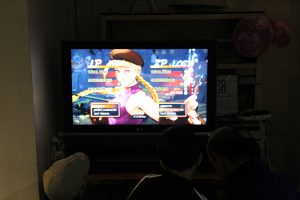 At this point three of us decided to play Ultra Street Fighter 4 with winner stays on rules in effect, I had good fortune to win up until another interested party arrived and took up the challenge. I did not know his name but he soundly beat me in both rounds, my pride was damaged I did not continue to play 🙁
After this humiliation and another drink, the four of us headed over to the GameCube to play a few rounds of one of my favourite games TimeSplitters 2, of course this meant I had to play a few rounds as the Monkey which didn't help me at all and I lost most of the rounds. Vengeance was upon me however, as the next game placed into the console was Mario Kart DoubleDash!! We managed to go through every single race, which thanks to some early wins and some very good luck in the last few rounds was a game that I ended up winning in.
After arriving at 3pm and not thinking that we would actually be there that long. Dan, Gary, Mike and I ended up leaving the event well after 10PM. The atmosphere of the event (despite one little disagreement between two attendees) was very positive and was reminiscent of when I used to go to friends places to play on their consoles. I will certainly be heading to the next event whenever that may be.
If you want to find out more about the guys and any future events that occur you can head over to http://www.button-mash.net/ as it seems that a few of these events are held each year.