Fractal Design announce Define R5
Those brilliant people over at Fractal Design have…sadly not reinvented the wheel, or figured out perpetual motion. They have a new case! one that people have waited for, for quite a while.
That's right, they have announced the next evolutionary step in the Define range, the R5. Taking configurability to a new level, the Define R5 keeps the styling that made it a benchmark of subtle PC cases, with no gaudy lights for example, whilst still catering to the enthusiasts who want to fit large cooling loops.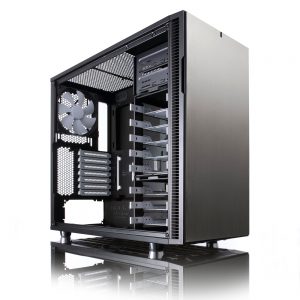 It has extremely impressive specifications as you would expect, including an 8 bay hard drive cage, which is removable. As well as a 2 bay optical drive cage which is again removable. Thus allowing you to fit a 360mm radiator in the front of the case without any issues. Along the top with removal of the optical drive bays, you can fit a 420mm radiator. Along the bottom, you can fit a 240mm radiator, and if that is not enough in the way of radiator you can fit a 120mm or a 140mm on the rear of the case.  Fractal Design obviously throwing no punches with radiator placement.
To help with noise, noise reducing foam is applied strategically throughout the case. Whilst the addition of Fractal Design Dynamic Series fans as standard in the case help to reduce the normal whirring.
As is standard on lots of cases now, there are tool-free SSD mounts on the motherboards back plate allowing for quick and easy installation.
You can read more over at www.definer5.com