Two weeks left until Play Blackpool
It is only a few short weeks until the RePlay events group take the show on the road again to Blackpool. Play Expo Blackpool is something I earmark in my calendar each year and I always aim to attend.
Held in the Norcolympia Exhibition Centre, Play Blackpool is jam-packed full of retro gaming goodness and of course more up to date games on display as well for those so inclined. You will even get a chance to play the spiritual successor to Sensible Soccer and Sensible World of Soccer, in Sociable Soccer
More info is below, and if you are wanting tickets you can get them by heading over to www.playblackpool.com I hope to see you there!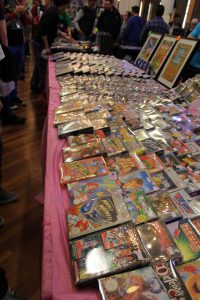 PRESS RELEASE
12th April 2016

PLAY Expo Blackpool just two weeks away – get ready to play by the seaside!
PLAY Expo Blackpool has been bringing retro and modern gaming entertainment to Blackpool for years and 2016 is no exception. This year Replay Events are bringing the best classics, tournaments and even a world first hands on session of an upcoming game.
The team are very proud to announce that this year they will be hosting a world first preview and hands on of a game; Sociable Soccer. After years away from football games, Jon Hare is ready to show the world the 'spiritual successor; to the classics hits Sensible Soccer and Sensible World of Soccer. Not only will Jon be giving a talk and Q&A session all about the past and present games, but there will also be tournaments overseen by Sky Sports eSports presenter Matt Andrews.
Over the course of the weekend there will be several other tournaments for attendees to take part in to flex their skills and win some prizes. 8bit Planet will be bringing both paid and free to enter Super Smash Bros tournaments, Super Mario UK Champion Sami Cetin will be returning with Super Mario Kart and Manchester Battle Arena will be setting up the ring for some brilliant fighting game tournaments.
If that has attendees in the mood for racing, then a full size replica Formula One car should be of interest. Visitors to the expo will be able to test their driving skills in this simulator that comes complete with authentic pedals and steering wheel. The game plays on a large screen at the front of the cockpit giving a brilliant immersive and memorable experience. The player with the fastest lap time each day will win a prize, so there's loads of reasons to have a go in this F1 car.
For the very first time PLAY Expo Blackpool will be offering the chance for visitors to attend master classes with industry experts. Sega artist Duncan Gutteridge will be talking about his work on various Sonic projects and showing visitors how to draw this classic character. For those into Pac-Man Jon Stoodley, the first European and one of seven people in the world to achieve the perfect score on the game, will be discussing his achievements and dishing out tips and pro secrets on how to up your game on the arcade classic. Industry veteran Jim Bagley will also be giving a Q&A over the weekend on his recent world record video game conversion and upcoming projects.
The Museum of Games and Gaming will be bringing their "Why do we play?" exhibition to PLAY Expo Blackpool. The exhibit investigates the entire history of gaming from ancient games like the Egyptian Senet to the most modern of video games and why we have always been so interested in devoting time and energy to playing these games. The exhibition has been curated by ex-Psygnosis employee and Museum of Games and Gaming Director Phil Robinson, who will be on hand at PLAY Expo Blackpool to talk visitors through the exhibit and answer any questions they may have.
For lovers of more modern gaming, there will be a selection of Indie developers and studios attending with their latest titles for guests to get stuck into. The Indie Zone has been a popular area and it can be a great place to get hands on with new and upcoming titles, as well as being able to talk to the people who designed and developed them.
Dark Cleo Productions will be hosting the ever popular cosplay and tabletop gaming sections of the expo. The masquerade will be on each day and will showcase the public's talent and passion for all things cosplay, over seen by brilliant cosplay judges. There will be a host of tabletop games for attendees to try out, with staff on hand to teach the rules and how to play.
The Minecraft Zone is returning this year after a popular reception in 2015 with a dedicated LAN team to run the different maps. Will attendees get useful items in their bags and be the last man standing on the exciting Hunger Games map? Or maybe they just want to explore, build and fight mobs on the Survival Map? If they're not feeling up to taking on Creepers and hunting out Diamonds, then the Creative Map will allow them to express their creativity.
There will, of course, be the usual extensive collection of free play arcade cabinets and pinball machines and hundreds of retro consoles, computers and handhelds to play all weekend. The Retro Computer Museum will be bringing two linked W Industries Virtual Reality machines for attendees to play on together and if there's a group then head to the PC LAN area to play some classic LAN games.
Finally, guests looking to spend some hard earned pennies on cool merchandise should head to the trading hall which will be full of video games, apparel and memorabilia vendors for that must-have item.
PLAY Expo Blackpool takes place at the Norcolympia Exhibition Centre in Blackpool on 30 April – 1 May 2016.
Tickets are available from www.playexpoblackpool.com.
About Replay Events Ltd
Replay Events is a unique, UK-based company specialising in the organisation of video gaming events and the supply of games consoles, computers and related equipment.
The Replay Events team are responsible for staging some of the UK's biggest gaming shows, such Play Expo and Play Blackpool. They have also provided equipment and technical expertise to a number of other highly successful video game and technology-themed exhibitions.
Replay Events were proud to receive the Best Education Initiative award from TIGA (games industry trade body) for their work on the Games Britannia festival at Magna Science Adventure Park, July 2012 and were finalists in the 2014 MCV awards.
Clients include BAFTA, Gamer Network, Science Centre Singapore, Museum of Science and Industry, Endemol, The Urbis Museum, The Gadget Show, GAME, North Tyneside Council and the National Media Museum.
More information about Replay Events can be found at www.replayevents.com.