Play Expo 2015
Another year another Play Expo and another trek to Event City in Manchester for a weekend of gaming and buying of geeky things.
Play Expo for those who have lived under a rock the past few years, started out as a small convention for retro gamers looking to have a chance to play classic games from time gone by. Over the few years it has run it has grown, often by massive amounts, and now incorporates several sub section events under the Play Expo banner including Cos.Play, Re.Play, Screen.Play amongst others. Within the Play Expo walls, each part has its own section to fill.
This year was the first I would actually say that the Expo hall felt well used. A larger and more spacious amount was given to the traders which meant that there was less jockeying for place to find games and all the other events going on were also well catered for space.
The dimly lit back wall of the event was where the Arcade Cabinets and PinBall machines were placed and it gave the area a great feel, much like the Play Blackpool event. The bright lights on the cabinets gave a great contrast to the darkened area. Even though there was no Thunder Cross once again 🙁  It was nice and easy to jump onto the cabinets though, and It was nice playing on some of the ones with more impressive control setups.

Further up from the cabinets were a few of the Retro areas, including RetroCollect, the team behind the event of the same name, who had brought some of their own consoles down for people to play whilst also advertising RCVGM3 which is taking place in Donnington next March.
A massive space was cordoned off for the Card Gaming area, which included row upon row of tables for everyone that had signed up for the different card game matches. When I arrived at the Play Expo, I actually thought a whole other event was on because of the amount of people that were waiting in a separate queue.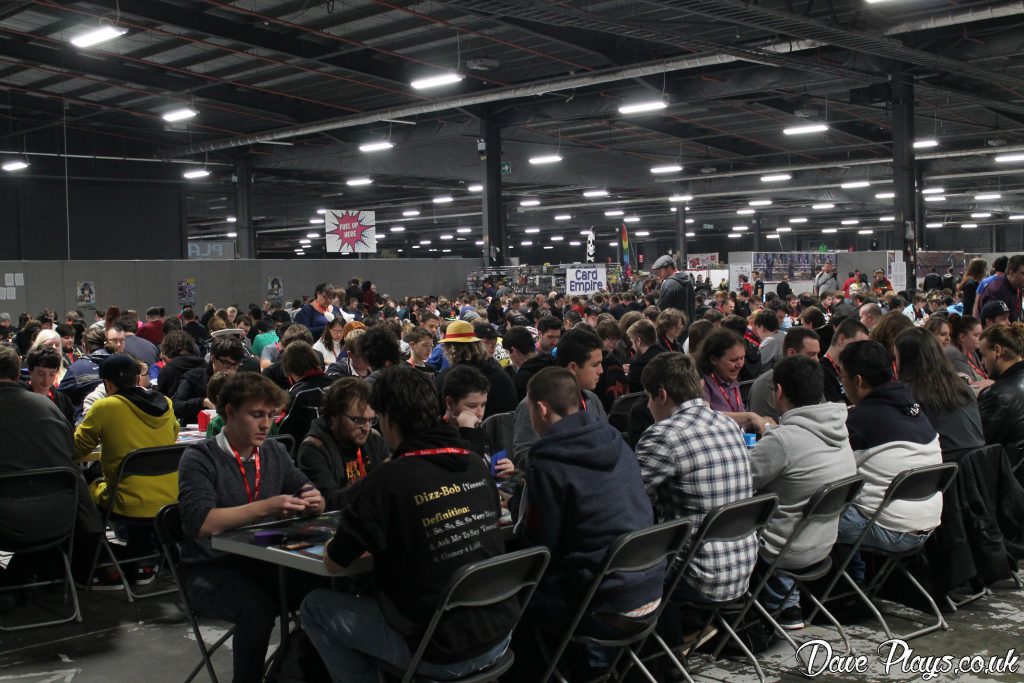 Speaking of queues, this year Play Expo had it down to a tee. There was still a queue, but rather than queuing to be let in and then getting wrist bands etc, they had numerous staff members shepherding event goers by scanning and handing out wristbands outside. This meant that once the doors were open you were free to head straight into the and get going.
I enjoy finding deals, so you can imagine my excitement when I saw that the amount of trading space had increased. I rarely buy anything at these events mind, not least because the prices are often seriously spiked compared to what you would find elsewhere. This year however I was on a mission to find a certain item.
It was not a specific game, but a specific style of NES cartridge. You see, back when the NES was released Nintendo had issues keeping up with of it in the USA which meant that to keep games flowing they repackaged certain Famicom games to keep up. Famicom games are a slightly different pin-out to the normal NES cartridge and are generally about half the size physically. To fix this difference, a conversion board was used, which accepts the Famicom PCB and converts it to the NES.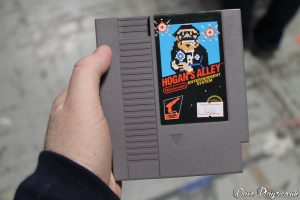 I wasn't holding out much hope, as the game would have to be a US release with a 5 screw case and a non-symmetrical pin out. However, the odds were in my favour as one of the traders was selling just that; American NES games by the box load. After scouring and triple checking the tell-tale signs, I came away with a copy of Hogan's Alley, a fairly entertaining light gun game, but one that is hard to play today as modern TV's do not work with it.
Sure enough when I cracked the case, the adapter was staring right back at me. Which means I now have some modding to do to make it fit my needs.
There were plenty of other traders on hand if you wanted some geeky swag as well, with a number of stores stocking tee-shirts and other collectibles. Retro GT were on hand with a number of brilliant designs at very reasonable prices. I really wish I had some money for them 🙂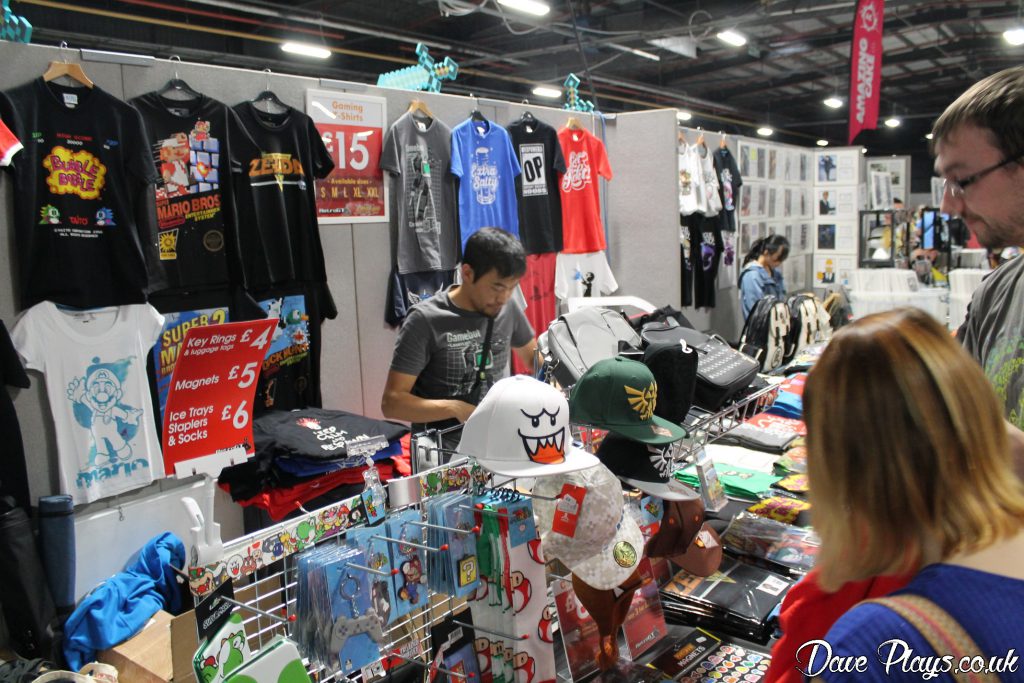 Other traders had sweets from around the world as well as numerous awesome Anime and Manga based merchandise for sale. Others were selling their own hand crafted items and art which gave a nice balance.
Of course there was a large area for the retro gaming consoles as well, with some areas again representing different game series' across the ages. Including Street Fighter, Tomb Raider, James Bond etc. There were two more long rows of even more classic consoles, each ready with game in slot or tray ready to pick up and play if you so desired, much like the arcades you never had to wait long to get on and play.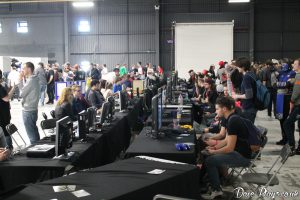 The Now.Play area had some very special next gen games on display including Dark Souls 3, which unlike EGX had a very reasonable queue length over Saturday, however despite my best efforts I didn't have much luck in the demo itself. It did however look very pretty whilst I was getting destroyed.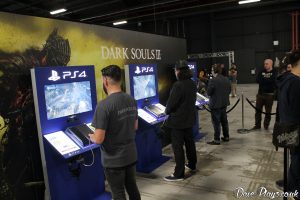 There were a number of PlayStation 4 cabinets up around the area as well which had a number of games for you to pick up and have a go with. One of which was Sebastian Loeb Rally EVO, which I was really looking forward to. Then I tried it and instantly regretted it. I shouldn't be really annoyed as it was still early code, but it certainly wasn't a smooth experience and the controls just felt a bit off.
Other games on display included BlazBlue: Chronophantasma Extend, which looked absolutely stunning. Project Cars, which I enjoyed immensely, especially racing around the Nurburgring in an old BMW M3 touring car.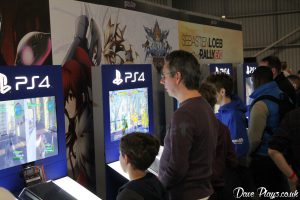 There was a larger amount of competitive gaming on show as well, with a number of LAN's for you to jump in with. I enjoyed the Counter Strike 1.6 LAN even after someone criticised my aim. There were LAN's for Battlefield 1942 and Unreal Tournament if Counter Strike was not to your taste however.
A number of machines were set up for competitive fighting games with a constantly large crowd surrounding the main stage for the Street Fighter tournament put on show by the Manchester Battle Academy.  During lulls the constant matches of Smash Bros and Street fighter on the surrounding machines was enough to entertain.
This year's Play Expo featured a massive CosPlay masquerade, there was almost no end to the amount of attendees taking to the stage for the masquerade showcasing amazing costumes whilst performing on stage, I took a number of photos which have been uploaded to flickr, so you should go take a look.
Before I give my final thoughts I have to say that really enjoyed the Indie Zone that was almost front and centre of the expo, whilst I managed to get a go on a couple of different games my highlight was Raging Justice from Makin Games, it gives you the scrolling brawler awesomeness of Streets of Rage  with gorgeous HD stylised graphics and really tight controls. It may be a way off from being released, this is a game you should keep an eye out for on Steam. It has already been greenlit which is one major step out of the way and hopefully a launch should only be a short way away.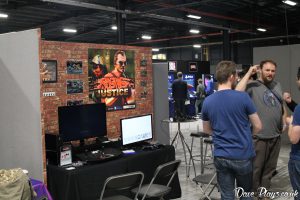 Last year, my takeaway was that the event had lost a bit of what I thought made must attend event. This year however everything was spot on, with more focused sections for each sub area and what felt to be a massive improvement what was actually on.
It felt like there was more of balance to each of the sub areas this year, maybe it is just me, but it felt a bit more like the PlayExpo's of old.