Dave reflects…
I sit here fuelled by various energy drinks, reflecting on my past gaming history. You see I am starting to hoard things. This started with games, specifically the Final Fantasy series, but has spread to year editions of various hardware. This includes the UK releases of Ducky mechanical keyboards, from the Year of the Dragon which I use day to day to type reviews and the like to the Year of the Horse which is my preferred keyboard for clubbing people over the head with (it weighs a lot!)
I digress, the reason for this post, is that I feel very lucky to have been introduced reasonably early to the aforementioned Final Fantasy series (my first was number 7) and 3D games as a whole. Final Fantasy 7 was the first 3D Final Fantasy and it marked a big step for the then Squaresoft as it marked them moving from Nintendo consoles to Sony's PS1. My issue, and I suppose it is really minor and it is more than likely because I am getting old 🙁
The reason I feel lucky, is that short of games that use sprites such as Breath of Fire 4, most 3D games from that time look terrible by todays standards. I know I shouldn't really compare the games of yesteryear to todays big hitters but I really feel for the younger generation. They have access to games that look so realistic and have brilliant lighting and realistic models, but whilst they can go back and play games like Final Fantasy 7 in many different ways, it will be a big shock to what they are accustomed to.
My nephew for example has no interest in playing anything outside of his XBOX 360 games, and I feel he is really missing out. I like to think one day Final Fantasy 7 will get a remake or a HD-re release which will make it more accessible, but Square-Enix troll with the best of them so the PC version is getting released on the PS4….
One thing I don't like to admit is that Final Fantasy 7 was actually a game that I struggled with when I first played it because the first boss kept killing me, it wasn't all my fault though as I was rather stupidly following the below prompt.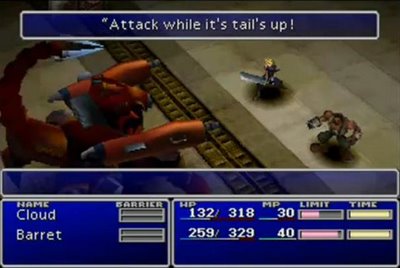 Once I had leveled up a bit more than perhaps I should've needed to and beaten the lowly Guard Scorpion. I then continued to play the game non-stop, going so far as to almost complete the first disc in that one sitting. This sense of achievement (finally beating that first boss) and finally being able to absorb the story probably helped with my fondness for Final Fantasy games since. I regularly go back and play Final Fantasy games on occasion now as I own most of the releases that were released in the UK on the PS1.
Another reason for this post is that my friend DanLV from www.cclonline.com has never played a Final Fantasy before, and I have never really played a Zelda title. He has fond memories of Zelda and I Final Fantasy, so we have both decided to take a recommendation and play through a game from each ohers series. I will be taking a go at A Link to the Past and Dan will be playing Final Fantasy 7. I will be writing about it when I finally get my copy and no doubt Dan will write about his impressions of Final Fantasy 7. I for one cannot wait.