Senran Kagura: Bon Appétit – Rhythm and Plot – Rolled into one
Senran Kagura: Bon Appétit! – Full Course (PC) – Food, Fan Service and Fun a plenty!
Listen, I don't review games all that often but I couldn't pass up on the chance to look at Senran Kagura: Bon Appétit! – Full Course when given the chance.
Senran Kagura: Bon Appétit! includes all the humour and fan service you would expect of a Senran Kagura game mixed into a rhythm based cooking game.
I went into the game with an open mind and the story is nicely laid out when you fire it up.
Master Hanzo lays on a cooking competition with the ultimate reward being a scroll that can grant any wish. This of course makes for some very bizarre story arcs between the characters.
There are three main modes: Story Mode, Free Mode, and Arcade Mode. The latter allows you to play for points on the online leaderboard, Free Mode allows you to pick the opponents that you battle, and Story Mode as the name suggests is where you play out the main Story of each character.
In all modes, your main goal is to outperform your opponent and the better you do will reflect in game by the clothes of your opponent literally bursting off their body.
If you also win without losing a round, you are provided with a "Perfect Victory" scene where your opponent is showcased being part of a dessert.
So, for those easily offended, this is probably not a game for you…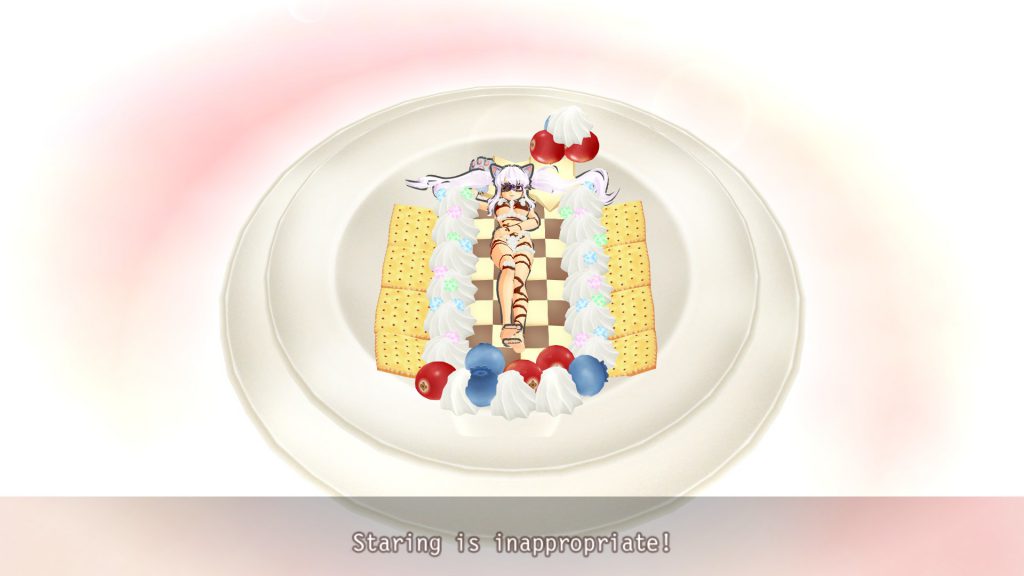 There are two control methods for playing Senran Kagura: Bon Appétit! Either with a controller or with a keyboard. Controller wise (Xbox) you input with the XABY and DPAD, on a keyboard you use WASD and the Arrow keys. For me the simpler choice was to play with the controller, although I would recommend trying both so you can get a feel for which you prefer.
Either way of feeding inputs into the game felt accurate even more so since the game plays at a steady 60FPS.
As you progress through each story arc, the more dominating a victory the more rewards you gain. Specifically, articles of clothing which you can dress up in. At the end of each story arc you are also treated to a few rewards. Including your own character's special dessert scene and results of their wish.
Depending how well you win, you are treated to Master Hanzo playing out an often bizarre scene where he goes crazy over your amazing cooking, in fact scratch that, all the scenes are bizarre including one where he uses cabbages to give himself breasts.
The previously mentioned clothing rewards can be equipped between each level in the games dressing room. This is also where you can unlock a few "special" achievements.
The soundtrack has some seriously catchy tunes in the pot. Although it is a tad short at only 31 songs, it is nice that you get this "Stacked Soundtrack" as part of the "Full Course" (Just check your SteamApps folder).
The difficulty levels of the game are a bit mismatched as certain songs are surprisingly harder than others no matter what mode you play on. Hard mode just seems to throw more button presses in than seem humanly possible and that do not always match up with the song which is a bit annoying with a rhythm game.
Thankfully though to win a round and progress you only need to worry about the third part of the battle, which helps a bit. Though momentum is easily lost if you don't at least try in the earlier two parts.
I did have a few issues with crashing which has marred my playthrough a bit as it seems to happen completely randomly (even at the start screen) on occasion.
With the advent of The Steam Awards, I have nominated this game for the "Just 5 More Minutes" award and to be honest, that is my overall opinion. You will try to put it down and move on to another game but the catchy J-Pop will just keep you hooked.
I am quite happy to give Senran Kagura: Bon Appétit the DavePlays.co.uk Choice award. If only because I am yet to have DavePlays.co.uk Plot award. Senran Kagura: Bon Appétit is available now on the Steam Store