Kingston HyperX 3K 120GB SSD Review
Once again Kingston have graced me with a product to review, this time I have been graced with a rather nice Kingston Hyper X 120GB 3K SSD (Part Code SH103S3B/120G) so firstly thank you Kingston!
You should all know who Kingston are by now, but if not let me tell you, they are one of the premier brands in the extremely crowded memory marketplace. Since 1987, they have endured producing some of the highest quality memory products that are available. Kingston offer some of the best support and warranty on memory items including a lifetime warranty on memory modules and flash cards, a three-year warranty on SSD's and a five-year warranty on USB Flash Drives.
It's amazing how cheap SSD's have become, my first purchase of a 60GB OCZ Vertex 2 way back in 2011 set me back close to 100 pounds, and it wasn't exactly a speed demon. Then when it went kaput within two years the replacement 120GB Agility cost me a similar amount, nowadays there are 512GB drives around for almost the same money, which is just ridiculous.
The drive I am looking at today is a 120GB model from Kingston, and is branded under their Hyper X Range, meaning it gets a tasty makeover from its SSDNow brethren.
Specifications
| | |
| --- | --- |
| Form Factor | 2.5" |
| Interface | SATA Rev 3.0 (6Gb/s) – with backward compatibility toSATA Rev 2.0 (3Gb/s) |
| Capacity | 120GB |
| Controller | SD-2281 |
| Seq Read/Write | 120GB/240GB – up to: 555/510MB/s |
| Maximum 4K read/write | 120GB – 86,000/79,000 IOPS |
| Random 4K read/write | 120GB – 24,000/79,000 IOPS |
| PCMARK® Vantage HDD Suite score | 120GB / 240GB / 480GB: 66,000 |
| Additional features | Supports SMART, TRIM and GarbageCollection |
| Total Bytes Written (TBW) | 120GB – 290TB 2 DWPD |
| Power consumption | 0.455 W idle / 0.6 W avg / 1.58 W (MAX)read / 2.11 W (MAX) write |
| Operating temperatures | 0°C ~ 70°C |
| Storage temperatures | -40°C ~ 85°C |
| Dimensions | 69.85mm x 100mm x 9.5mm |
| Weight | 97g |
| Vibration operating | 2.17G peak (7–800Hz |
| Vibration non-operating | 20G peak (10–2000Hz) |
| MTBF | 1,000,000 hrs |
| Warranty/support | 3-year warranty with free technical support |
Packaging
The packaging the Kingston HyperX SSD comes in is surprisingly large, but the reason for this will become apparent as you read on.
So here is the front, not too much going on other than the aforementioned read/write speeds being advertised as well as the fact this Kingston SSD is Sandforce Driven.
The rear of the box gives away the reason for the larger than normal packaging, which is the vast amount of included accessories the Kingston HyperX SSD includes.
Once opened up you get to see the SSD itself, which has a very nice brushed metal design on the case.
Underneath the SSD is the first of the included accessories, a blue HyperX branded 2.5" to 3.5" SSD bracket.
So far so good you would think, but what else does the Kingston HyperX 3K SSD include?
Simply put, a lot! Included with this Kingston 120GB you get a Kingston branded 2.5" USB 3 enclosure with cable (which will make using the cloning software a bit quicker) a Kingston screwdriver, SATA3 cable, screws, the aforementioned cloning software, and everyone's favourite item STICKERS!!
With all that out-of-the-way, let's get this connected and see how it performs.
Testing Setup
A new type of review this time meant a change-up in how I prepare for these tests, you see I've had this drive for a number of weeks now, so to make sure that I was not just getting out of the box performance.
As such I used this drive as my primary one for a number of weeks, allowing for the drive to fill up fully with the usual clutter, I then deleted the data and allowed for TRIM to then do its bit.
Once this step had been taken I ran benchmarks on the drive to get results.
The following hardware was used for the testing with the drive plugged in as a secondary drive, and a clean installation of Windows 8.1
• Intel Core i7-3770k
• GIGABYTE G1 Sniper M3
• 120GB Agility 3 (Primary Drive)
• 2 x 4GB GeiL Enhance Corsa
• MSI 6870
• Corsair TX550M
• Windows 8.1 64bit
Crystal Disk Mark
Crystal Disk Mark is a benchmark that uses incompressible data files, performing sequential, 512KB and 4KB random read and write tests.
The tests produces reasonable results overall, whilst not exceptional.
AS-SSD
AS-SSD was the next test performed. Again it is a freeware benchmarking utility that uses mostly incompressible data during its sequential and random read and write tests, although it slightly differs to Crystal DiskMark in that it uses a Queue Depth of 64.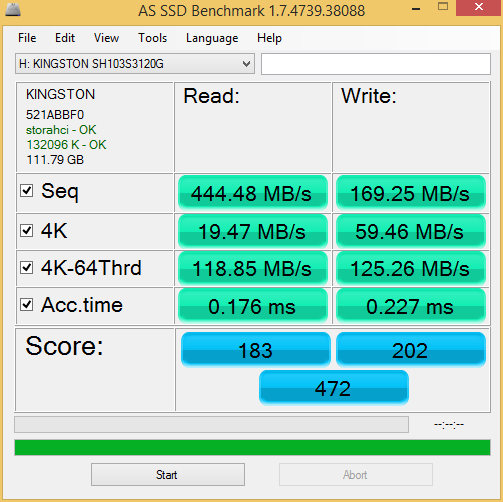 Once again the tests produced reasonable results, with similar scores to CrystalDisk.
PCMark 8
After these tests had been performed, I decided to run PCMark 8's storage tests on the Kingston HyperX 120GB SSD as these aim to give a more representative look at real life performance by using traces that have been recorded from real applications and games rather than recording throughput.
PC Mark 8 expands on the previous iterations available tests, providing a more thorough bombardment on the drive, including application loading tests, which involve replicating a working environment to see how fast test applications such as Office software loads.
Analysis and Conclusion
In both AS-SSD and Crystal DiskMark, the Kingston HyperX 120GB SSD had respectable performance; though with a tested sequential read of around 450MB/s given the claimed maximum of 555MB/s this is a quite noticeable difference. The difference between the box write speed and tested write speeds were quite jarring.
In PCMark 8, the results were good with respectable scores being returned in all application opening tests, but a lower than expected result was returned in the overall bandwidth result, this is not much of an issue on its own because of the other results.
Taking the PCMark 8 results as more indicative of real world performance as well as the results of my own use of the drive as a primary unit the Kingston HyperX 120GB 3K SSD is an exceptionally solid drive; boot times were quick and loading apps similarly so.
One minor gripe, is its price, retailing for around 67 pounds it is priced higher than some of its competition. Where it makes up for this discrepancy is if you are transitioning in a laptop environment and want to migrate data and then make use of the old drive. The appeal of the software and external caddy makes it a compelling choice.
Because of all the included kit, I am happy to award this drive a DavePlays recommended award!
[eap_ad_1]