Cougar launches 200K gaming keyboard
Cougar have been fairly active recently, releasing numerous new gaming peripherals to the market. Including many gaming keyboards including the 500K and the 600K gaming keyboard which uses mechanical switches. Today sees the release of something a bit more wallet friendly, the 200K.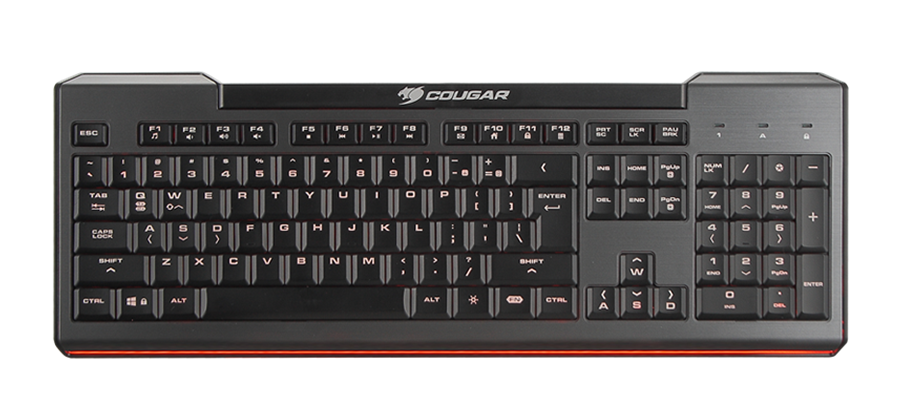 Using scissor switches over a membrane provides a better feel to normal rubber domes, it also allows for a slimmer keyboard overall. It is also exceptionally cheap, with CCLOnline currently selling it for £29. More info and the press release can be found below.
//Press Release//
January 19th, 2015, Taipei – COUGAR, COUGAR brings to the gaming keyboard market a new and strong contender: The COUGAR 200K Gaming Keyboard. This keyboard's three defining features are its exquisite and quiet feeling due to its scissor switch mechanism, its anti-ghosting technology that ensures accuracy when gaming and the pack of core non-intrusive functions that make the most out of the standard keyboard layout.
The 200K is the best choice of its segment due to its compact and durable design, that also offers a quality feeling unseen until now in non-mechanical keyboards. Its anti-ghosting technology, implemented in the 19 keys that are most vital for gaming, ensures perfect accuracy when gaming, and the implemented extra functions (media controls, brightness adjustment and more) are implemented in a non-intrusive way. This means the 200K is able to maintain the standard keyboard layout, altering it in only two keys, one for backlight control and another one to activate the secondary functions for keys.
In what is another extra specially designed for gamers, the 200K allows to switch the functionality of the WASD keys and the direction keys, which is especially useful for left handed users or for those who for any other reason might want to adjust in this way the keyboard layout. Finally, the possibility of adjusting the repeat rate will become helpful when facing games that require repeatedly pressing a specific key. The final touch comes from its durable and sturdy build: The 200K's weight and its anti-slip rubber feet ensure it stays stable and give it a quality feel that sets it apart from the light weight and instability of most membrane and scissor switch keyboards of the market.
All those features come packed in an elegant design in line with the high standards COUGAR sets for its products, with a hairline style surface and an elegant 7 color backlight both for the keys and for the front of the keyboard that can be controlled through the dedicated backlight key. This design also includes an option to, through a key combination, activate the breathing effect of its backlight, creating an impressive visual effect. COUGAR 200K has already been acclaimed by pro gamers.
For more information about 200K, please visit:
http://www.cougar-world.com/products/keyboards/cougar_200k.html